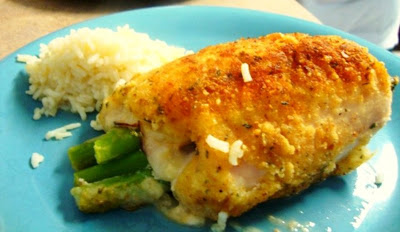 I found this recipe through a friend – we have been swapping recipes for a bit now and it's been fun to try new dishes. She found this one on the Taste of Home website. I doubled the recipe for my family and it was wonderful. It's a new twist on Chicken Cordon Bleu . The rice that I made was even from the same website and is posted here too.   Ingredients
8 fresh asparagus spears
2 boneless skinless chicken breasts
1 tbsp Dijon mustard
2 slices provolone or swiss cheese
2 slices deli ham
1/4 cup all-purpose flour
1 egg, lightly beaten
1/2 cup dry bread crumbs
1/4 cup grated Parmesan cheese
1-1/2 tsp butter
1-1/2 tsp olive oil
1/4 cup chicken broth
Preheat oven to 350 degrees.
In a large oven-safe skillet, bring 1/2 in. of water to a boil. Add asparagus; cover and boil for 3 minutes. Drain and immediately place asparagus in ice water. Drain and pat dry.
Flatten chicken to 1/4-in. thickness. Spread mustard over one side of each chicken breast. Down the center of each, a cheese slice, ham slice and four asparagus spears. Fold chicken over asparagus; secure with toothpicks.
Place flour and egg in separate shallow bowls. In another shallow bowl, combine bread crumbs and Parmesan cheese. Dip chicken in the flour, egg, then bread crumb mixture.
In a large skillet, brown chicken on all sides in butter and oil. Transfer to an 8-in. square baking dish coated with cooking spray. 
Add chicken broth to skillet, stirring to loosen browned bits from pan. Pour over chicken. 
Bake at 350 degrees for 20-25 minutes or until done. 
Enjoy!