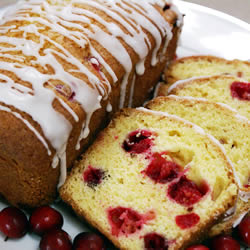 Last Thanksgiving, I bought a bag of fresh cranberries and my intention was to make cranberry sauce but that never happened as I found this recipe on allrecipes.com.  The orange zest makes this bread pop…it is so good!
2 cups all-purpose flour
1 1/2 teaspoons baking powder
1/2 teaspoon baking soda
1/2 teaspoon salt
1 tablespoon grated orange zest
1 1/2 cups fresh cranberries
1/2 cup pecans, coarsely chopped
1/4 cup margarine, softened
1 cup white sugar
1 egg
3/4 cup orange juice
1. Preheat the oven to 350 degrees F (175 degrees C). Grease and flour a 9×5 inch loaf pan. Whisk together flour, baking powder, baking soda, and salt. Stir in orange zest, cranberries, and pecans. Set aside.
2. In a large bowl, cream together margarine, sugar, and egg until smooth. Stir in orange juice. Beat in flour mixture until just moistened. Pour into prepared pan.
3. Bake for 1 hour in the preheated oven, or until the bread springs back when lightly touched. Let stand 10 minutes, then turn out onto a wire rack to cool. Wrap in plastic when completely cool.