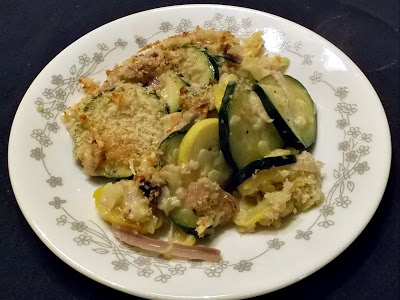 This is your next vegetable dish, I'm not kidding. Make this, today or tomorrow but make it.  Creamy, delicious, and addicting.  I first saw this on Martha Stewart's show a long time ago but never made it and found the recipe online by chance recently and decided to add to the week's menu . I made one change and used a large red onion that I sliced on the thick side. Oh my goodness! To quote Martha, "It's a good thing."
Ingredients:
2 tablespoons butter
2 medium zucchini (about 7 ounces each), sliced crosswise 1/4 inch thick
2 medium yellow squash (about 7 ounces each), sliced crosswise 1/4 inch thick
2 shallots, minced (I used a large red onion, sliced instead of the shallots)
2 garlic cloves, minced
Coarse salt and ground pepper
1/2 cup heavy cream
1 cup Panko
1/2 cup grated Parmesan cheese
Instructions:
Preheat oven to 450 degrees.
In a large skillet, melt butter over medium heat; add zucchini, yellow squash, red onion, and garlic. Season with salt and pepper.
Cook, stirring occasionally, until zucchini and squash are crisp-tender, 4 to 6 minutes.
Add cream, and cook until thickened, about 5 minutes. Remove skillet from heat; stir in 1/2 cup Panko and cup Parmesan.
Spoon mixture into a shallow 2-quart baking dish. Sprinkle with remaining Panko and Parmesan; season with salt and pepper. Bake until top is golden, 8 to 10 minutes.