This post may contain Amazon or other affiliate links. As an Amazon Associate I earn from qualifying purchases. Click
here
to read our privacy policy.
Having friends and family over for a get-together? Here are some easy ideas for your next Fall Cocktail Party. Simple and easy tips to plan ahead so you can enjoy your own party.
There's something really magical about this time of year. The glorious reddish brown of the leaves, the misty, smoky quality the air takes on and the slight tingle of festive anticipation as we look ahead to Halloween, Thanksgiving and Christmas; all of these are shared gratifications when it comes to this autumnal season. The season also brings with it a plethora of tastes that we associate with the time of year, combining mellow fruitfulness with just a hint of warming spice… Yet some of us daren't go in for anything more adventurous than your run of the mill pumpkin spice latte.
Since this is the season where the weather takes a turn for the worse and people can find themselves a little down in the dumps, this is the perfect time to connect with friends and family over a freshly mixed cocktail. Here you'll find some quintessentially autumnal tips and recipes using easy to find ingredients. Even if you don't have time to shop, it's easy enough to know where to buy alcohol online. Everything here is easy and fun so you can appreciate maximum enjoyment with minimum effort.
This season's flavors
The flavors of pumpkin, nutmeg and cinnamon are a no brainer when it comes to this time of year but they shouldn't be the be-all-and-end-all of your culinary palette. The best flavors for the season incorporate a mixture of sweetness, smoothness, warmth, smokiness and spice. Quintessential tastes of the season include apples and pears, ginger, pomegranate and cranberry, butternut squash, maple syrup and chai spices. Incorporating these into your drinks choices will really tie the theme together.
Fall table centerpieces
A great table centerpiece is a ubiquitous part of any great house party, but while a summer (or even winter) party may involve cascades of flowers, the best fall centerpieces should be constructed with beautiful and aromatic combinations of fruits, vegetables and spices to really set that tone. A horn of plenty stuffed with clove pocked clementines, cinnamon sticks, squash, pumpkins (heck, even jack-o-lanterns if you want to start Halloween early) can be used to inject that all important seasonal feel.
Give your party punch
If you're not a fan of elaborate centerpiece, a punch bowl can do just as well (perhaps decorated with eucalyptus leaves and sprigs of pine for a little hint of aroma and color. There are quite a few great fall punch recipes out there, but my personal recommendation is the autumn glow punch which combines allspice, cloves and cinnamon to with a combination of dark rum, apple and cranberry juices for a fruity, smoky, spicy flavor.
Now, let's talk drinks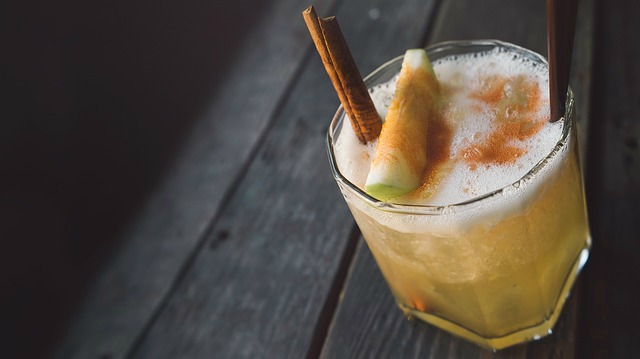 Everyone has their own seasonal favorites but should you find yourself stuck for ideas, you can't really go wrong with any of the following…
Whiskey sour- This warming classic needs no introduction.
Thyme will tell- A simple but strong mix of bourbon, maple syrup and lemon juice with a sprig of thyme that's guaranteed to clear the sinuses.
Apple cider mimosas- It's never a bad time for champagne, especially if it's mixed with a splash of cider, brown sugar and cinnamon.
Caramel apple mule– Those who favor sweet and fresh tastes will enjoy this combination of cider, caramel syrup and vodka.
Apple Hinny- This one's a little sharper, combining green apple juice, vodka, ginger ale, lime juice and a dusting of nutmeg.
Always have some non-alcoholic beverage or mocktail choices available as well. Many of the punches can be made without alcohol and are just as delicious. It's great to have options for everyone!
In the end, your Fall gatherings should create an atmosphere of warmth, make your guests feel comfortable, and leave them wanting to come back. Memories in the making…that's what it is all about.
Don't forget to enter the Easy Homemade Cookie Cookbook giveaway! It ends October 27, 2017.
You can enter here.
Enjoy!