Ham and Cheese Scones with Chives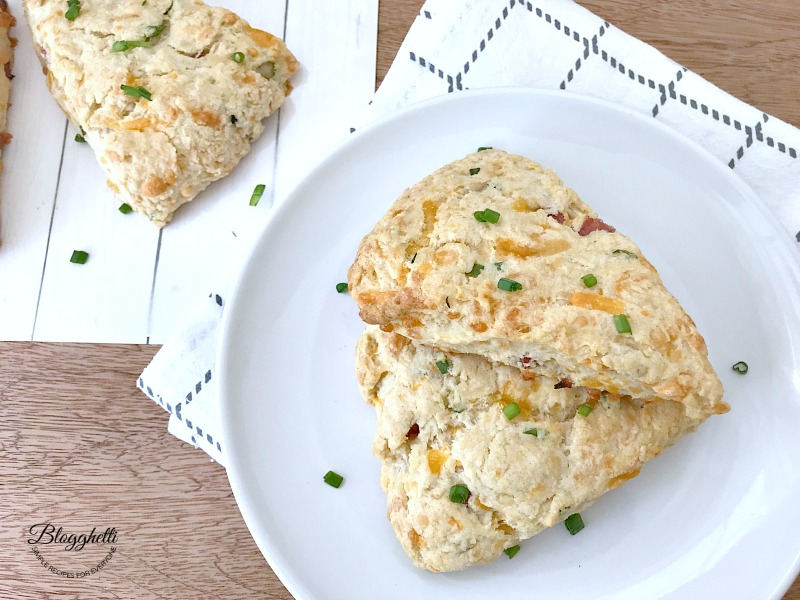 2 cups flour
1 tbsp sugar
1 tbsp baking powder
¼ tsp salt
½ cup unsalted butter, frozen (1 stick)
¾ cup cold buttermilk
1¼ cups freshly shredded sharp cheddar cheese
½ Cup diced ham (small dices)
1 tbsp chopped fresh chives
Preheat oven to 425 degrees. Line a baking sheet with a silicone baking mat or parchment paper.
In a large bowl, whisk together the flour, sugar, baking powder, and salt. Set aside.
Grate the frozen butter using a box grater. (can also use a food processor)
Toss the grated butter into the flour mixture and combine it with a a fork, or your fingers until the mixture resembles large crumbs. Set aside.
Using a wooden spoon, stir in buttermilk, cheese, ham and chives until a soft dough forms.
Working on your prepared baking sheet, knead the dough a couple of times until it comes together.
Using a rolling pin, roll the dough into an 8-inch circle, about 1-inch thick, and cut into 8 wedges using a sharp knife or pizza cutter.
Place into oven and bake for 18-20 minutes, or until firm to the touch and lightly browned.
Remove and serve immediately.
To store the scones: place the scones in a sealed container or zip top bag and store in the fridge. They will last about a week.

To freeze the dough to bake scones later:  separate the wedges and flash reeze on a cookie sheet lined with wax paper or parchment paper. Then place the frozen dough in a zip top bag and store in the freezer, up to two months. 

Baking frozen scone dough:  Bake them straight from freezer to oven but allow an additional 2-4 minutes for baking. 

Baked and cooled scones can be frozen for up to 2 months.
Recipe by
Blogghetti
at https://blogghetti.com/2019/06/ham-and-cheese-scones-with-chives.html