Taco Soup (Crockpot)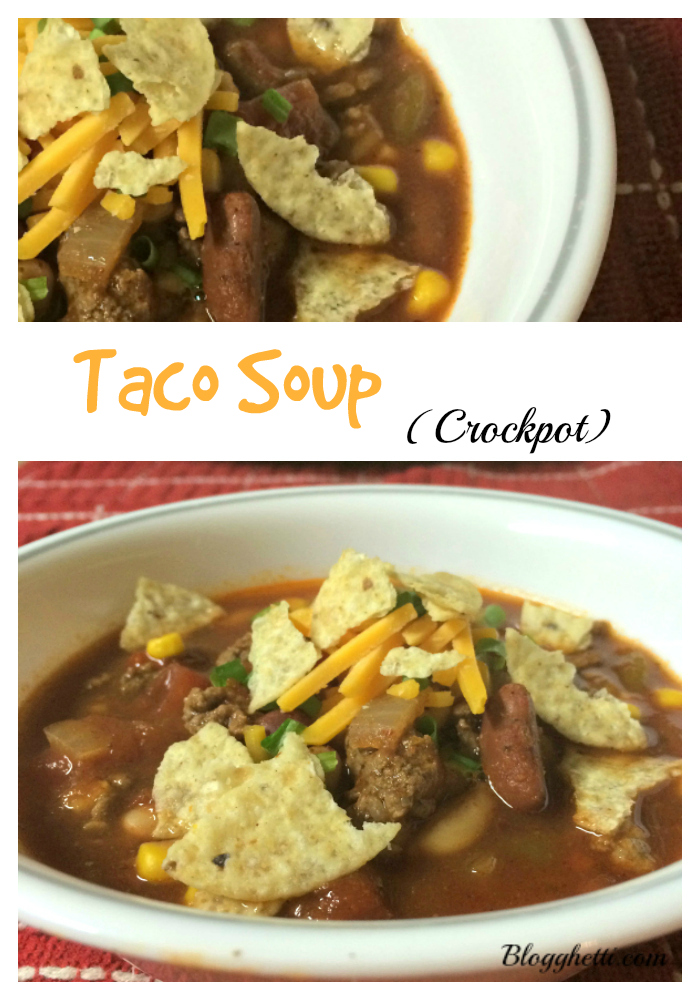 1 lb. lean ground beef
1 (32 oz) carton of unsalted chicken stock (I use Kitchen Basics All Natural Unsalted Chicken Stock)
1 small onion, diced
1 (15 oz) can whole kernel corn. drained (I prefer to use unsalted)
1 (4 oz) can diced green chiles (do not drain)
1 (14.5 oz) can diced tomatoes (do not drain)
1 (14.5 oz) can crushed tomatoes (do not drain)
1 (14.5 oz) can red kidney beans, rinsed and drained
1 (14.5 oz) can Great Northern beans, rinsed and drained
salt and pepper, to taste
suggested taco toppings: crushed tortilla chips, shredded cheese, diced tomatoes, chopped green onion, cilantro, sour cream
Heat a skillet to medium-high heat and add the ground beef, breaking the meat up as it is cooking. Mix in 1 tablespoon of the chili seasoning mix into the ground beef.
When cooked through, drain and add the meat to the crockpot.
Add remaining ingredients to the crockpot (except for suggested taco toppings). Taste to see if you need to add more salt and pepper.
Give it a good stir, cover and cook on high for about 4 hours and then one hour on low. You'll know when it's done - the smell alone will tell you but check the onions. They should be tender and translucent.
Serve with the suggested taco toppings, if desired.