Sweet and Sour Meatballs (Crockpot Recipe)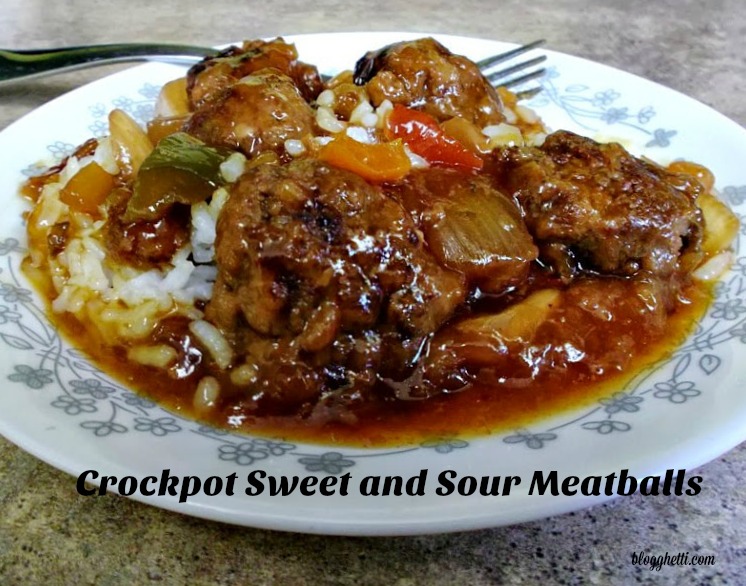 1½ pounds lean ground beef
1¼ cups Panko bread crumbs
½ small onion, chopped finely
1 eggs
¼ plus ⅛ cup ketchup
⅛ cup brown sugar
1 (10 oz) jar sweet and sour sauce
¼ cup brown sugar
¼ cup soy sauce
½ tsp garlic powder
1 medium red bell pepper, chopped (Use what colors you have on hand)
1 medium green bell pepper, chopped
1 medium onion, chopped
1 (20 oz) can pineapple chunks, drained (you can use crushed too)
Preheat the oven to 375 degrees.
In a medium bowl, mix together ground beef, Panko, onion, eggs, ketchup, and ⅛ cup brown sugar until blended.
Form into about 1 inch balls and place on a baking sheet that has been sprayed with non-stick spray.
Bake for about 20 minutes, turning halfway through cooking time.
When cooked through, place on a plate and set aside.
Spray inside of slow cooker with non-stick cooking spray. (Makes for easy clean-up!)
Place all sweet and sour sauce ingredients inside the slow cooker and stir to combine
Add meatballs and coat them with the sauce.
Place lid on slow cooker. Cook on low for 6-7 hours or on high for 4-5 hours.
Serve over rice.
Meatballs can be cooled and then frozen for a later use in this recipe.
You can use frozen meatballs, too if you are short on time. I like to make a double batch of meatballs when I am making them for a recipe and then freeze half for a later use.
You can use ground turkey would be good in place of the ground beef.
Recipe by
Blogghetti
at https://blogghetti.com/2013/07/sweet-and-sour-meatballs-crockpot-recipe.html