Easy Breakfast Biscuits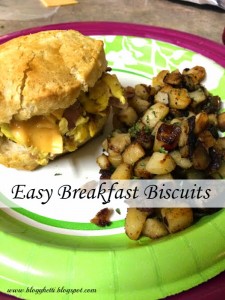 6 eggs, beaten
Sliced deli ham (use as much or as little as you want)
Sliced cheese
1 can of Pillsbury Grands Biscuits
Bake biscuits according to package directions.
Spray a skillet with non-stick spray and heat on med-high heat.
Cut the ham into 1 inch pieces. Place ham in heated skillet and let it cook about 2 minutes or until heated through.
Add the eggs and scramble them with the ham till the eggs are set and cooked through.
Cut warm biscuits in half and place a slice of cheese on the tops of each biscuit.
Spoon egg and ham mixture over the bottom of biscuit. Place biscuit top over eggs.