Chicken Fajita Quesadillas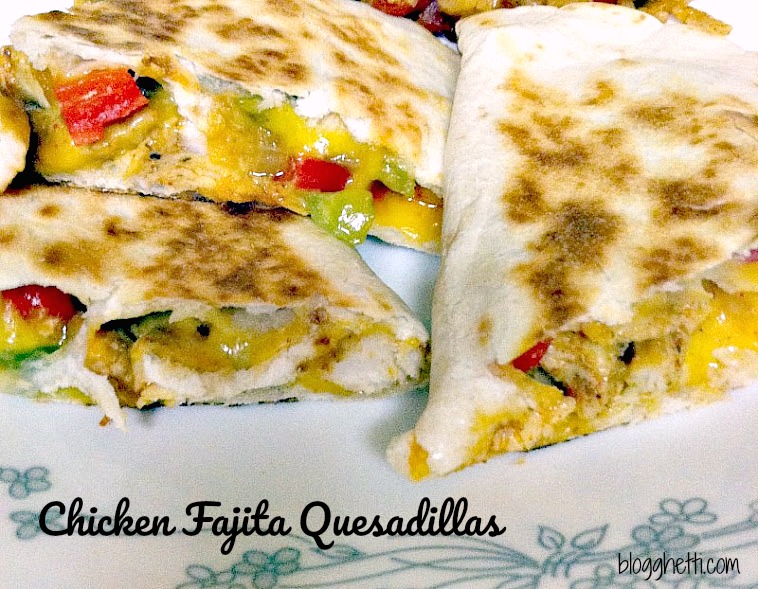 1 pound boneless, skinless chicken breasts
3 tbsp extra virgin olive oil, divided
1 green bell pepper, diced
1 red bell pepper, diced
1 medium onion, diced
3 tbsp Homemade Fajita Seasoning (OR: 2 tsp chili powder, 2 tsp cumin, ½ tsp garlic powder, ½ tsp dried oregano)
flour tortillas
8 ounce package shredded cheddar cheese
8 ounce package shredded Monterey Jack cheese
toppings (sour cream, salsa, etc)
Cut each chicken breast lengthwise in 3 strips; cut crosswise into thin pieces (diced is also good).
If using the Homemade Fajita Seasoning add 2 tablespoons of oil in a small bowl and combine well. OR: Combine the chili powder, cumin, oregano, garlic powder with 2 tbsp of the oil in a small bowl.
Toss the seasoning mix with the chicken, coating very well. Leave the chicken to marinate this way while you are chopping the vegetables or refrigerate and let it marinate for a couple of hours.
Heat the 1 tablespoon of oil in a large skillet over medium high heat.
Add the chicken and cook 7 to 8 minutes or until no longer pink in the center, stirring frequently. Let the chicken brown up nicely before turning it.
Stir in the bell peppers and onion. Cook the vegetables for 5 to 7 minutes or until the vegetables are tender.
Sprinkle ¼ cup Cheddar cheese on half of a tortilla.
Spoon about ½ cup of the chicken mixture over the cheese.
Top with ¼ cup Monterey Jack cheese and fold the tortilla over, forming a half moon. Press lightly.
If necessary, spray a skillet or griddle with cooking spray; warm to medium heat. Lightly brown each quesadilla for 2 to 3 minutes per side until the cheese is melted.
Cut each into wedges and serve with the toppings of your choice.
Recipe by
Blogghetti
at https://blogghetti.com/2013/03/chicken-fajita-quesadillas.html