Simple and Delicious Sweet and Sour Pork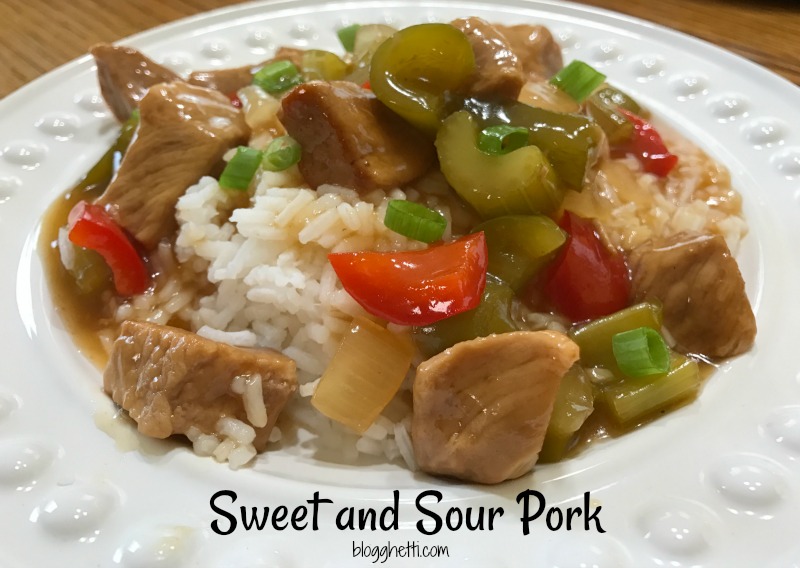 1½ pounds lean pork, cut into bite size pieces
3 tbsp. olive oil
1 med onion, chopped
1 bell pepper, chopped (any color will do)
2 stalks celery, sliced
2 cloves garlic, minced
salt & pepper
½ to ¾ cup sugar (depending on your taste)
½ cup vinegar
2 Tbsp soy sauce
2 Tbsp lemon juice
2 Tbsp catsup
2 tbsp cornstarch
½ cup unsalted chicken stock (can use broth)
Prepare the sauce by combining the sugar, vinegar, soy sauce, lemon juice, and catsup. Whisk well.
Set the sauce aside for now.
Saute the onion, celery, and bell peppers in the olive oil for a few min (do not over cook). You want them tender-crisp. Remove from pan and set aside.
In the same pan, brown pork, seasoning with salt & pepper to taste. You may have to add a bit more olive oil to the pan. Do not crowd the pork, instead brown in batches if necessary.
When all pork is browned, place in pan and add the garlic, let cook about 30 seconds more. Pour the prepared sauce over the pork; bring to a boil and then cover and simmer for about an hour or until meat is just about tender.
When pork is just about done, add the vegetables that were set aside.
When the meat is tender and vegetables are heated, combine 2 tbsp cornstarch with the ½ cup chicken broth and stir till mixture is clear. Pour over pork and vegetables and heat till thickened, about 15 minutes.
Serve over rice.
Recipe by
Blogghetti
at https://blogghetti.com/2017/05/sweet-and-sour-pork.html