Crockpot Philly Cheesesteaks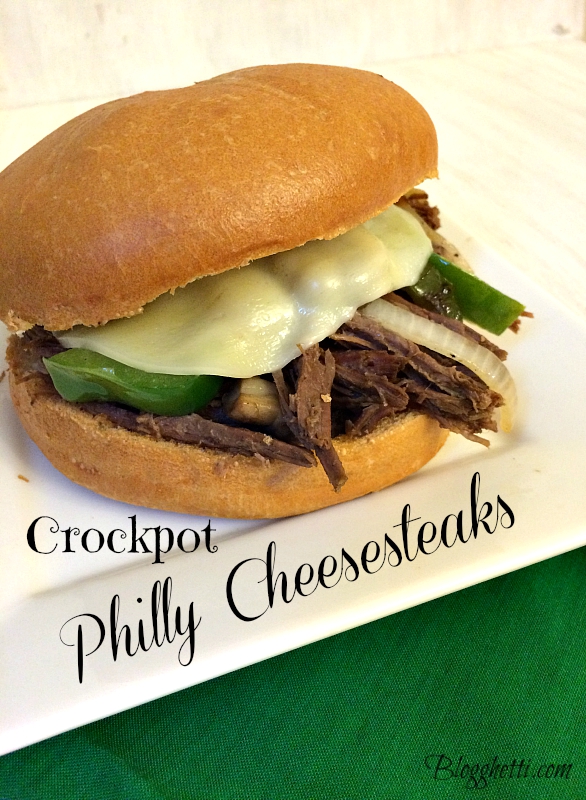 2½ - 3 lbs beef chuck roast
2 tsp Montreal steak seasoning
3 cloves garlic, minced
½ of medium onion, roughly diced
1 cup beef stock
2 tbsp Worcestershire
1 tablespoon butter
1 green pepper, sliced
½ yellow onion, sliced
1½ cups of fresh mushrooms, sliced
Salt and pepper to season
slices of provolone cheese
hard sandwich rolls
Trim roast of visible fat. Rub Montreal steak seasoning on both sides of roast.
Spray inside of crocpot with nonstick spray. Place the roast into a crockpot. Top roast with garlic and onion.
Pour beef stock and Worcestershire over the roast.
Cook on low for 6­8 hours.
Remove roast from the crockpot and shred meat into with two forks, discarding any fat.
Place the shredded beef back into the crockpot along with any juices that are on the plate. Allow beef to continue to cook on low.
In a medium skillet over medium heat, saute green peppers, mushrooms, and onions in butter about 5 minutes until they begin to soften. Season with salt and pepper, to taste.
Make sandwiches by placing the shredded beef, cheese, green peppers, mushrooms, and onions on one side of the roll.
Turn your broiler on. Place the sandwiches on a baking sheet open faced to melt the cheese and to slightly toast the rolls.
Recipe by
Blogghetti
at https://blogghetti.com/2015/09/crockpot-philly-cheesesteaks.html