Luke Bryan's Easy Chicken, Rice, and Tomato Bake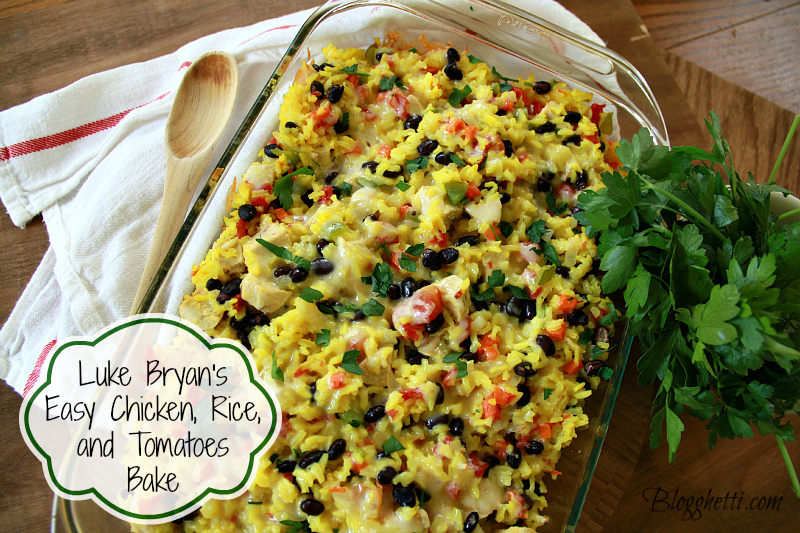 1 - 10 oz package yellow rice mix
½ cup chopped onion
½ cup chopped green pepper
½ cup chopped carrot
1 Tbsp. olive oil
2 cups cooked cubed chicken
1 - 15 oz can of black beans, drained
1 - 10 oz. [Red Gold Diced Tomatoes with Green Chiles - mild | http://www.redgoldtomatoes.com/]
2 cups grated Monterey Jack cheese
Preheat oven to 350 degrees. Prepare rice according to package directions.
Meanwhile, saute' onion, green pepper and carrot in hot oil in medium skillet over medium heat 10 minutes.
Combine hot cooked rice, onion mixture, chicken, beans, diced tomatoes, 1½ cups cheese in large bowl.
Spoon into lightly greased 9 x 13 baking dish. Sprinkle with remaining cheese.
Bake at 350 degrees covered for 30 minutes. Uncover and bake 10 minutes or until cheese is melted.
Recipe by
Blogghetti
at https://blogghetti.com/2015/10/luke-bryans-easy-chicken-rice-and-tomato-bake.html