Crockpot BBQ Pulled Beef Sandwiches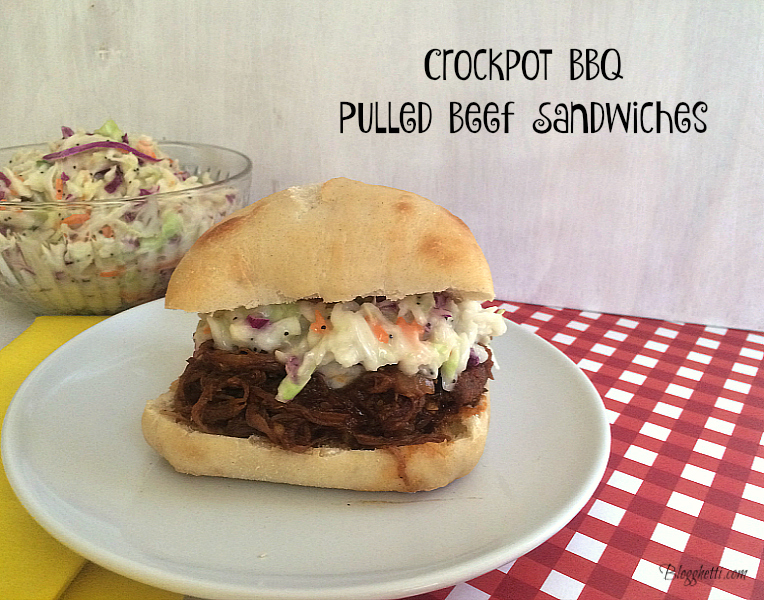 1 medium onion, sliced
salt and pepper
3 - 3½ lbs beef chuck roast, trimmed of fat
1 cup water
1½ tbsp white vinegar
2 tbsp brown sugar
2 tbsp honey
1 tsp dry mustard
2 tbsp Worcestershire sauce
1½ cups ketchup
2 - 3 cloves garlic, minced
1 tsp salt
¼ - ½ tsp ground black pepper
¼ tsp cayenne pepper
¼ tsp crushed red pepper flakes
Hard Rolls
Spray crockpot with non-stick spray.
Place sliced onion on bottom of crockpot.
Season roast with salt and pepper. Place the roast on top of sliced onion.
Pour 1 cup of water in the crockpot. Cover, and cook on low for 4- 5 hours, or until beef can be easily shredded with a fork. This will depend on the size of your roast.
Remove the roast and shred the beef and as you do, remove any fat. Spoon out ½ cup or so of the broth from crockpot. You may need to add some broth back into the shredded beef later.
Place shredded beef back into the crockpot.
In a medium bowl, whisk the vinegar, brown sugar, dry mustard, Worcestershire sauce, ketchup, honey, salt, pepper, cayenne, crushed red pepper and garlic.
Pour over the shredded beef and stir to coat the meat with the sauce.
Cover and continue to cook beef on low for an another 4 to 6 hours. Use the reserved broth if needed to add moisture to the beef.
Recipe by
Blogghetti
at https://blogghetti.com/2016/04/crockpot-bbq-pulled-beef-sandwiches.html