One-Pot Chili Mac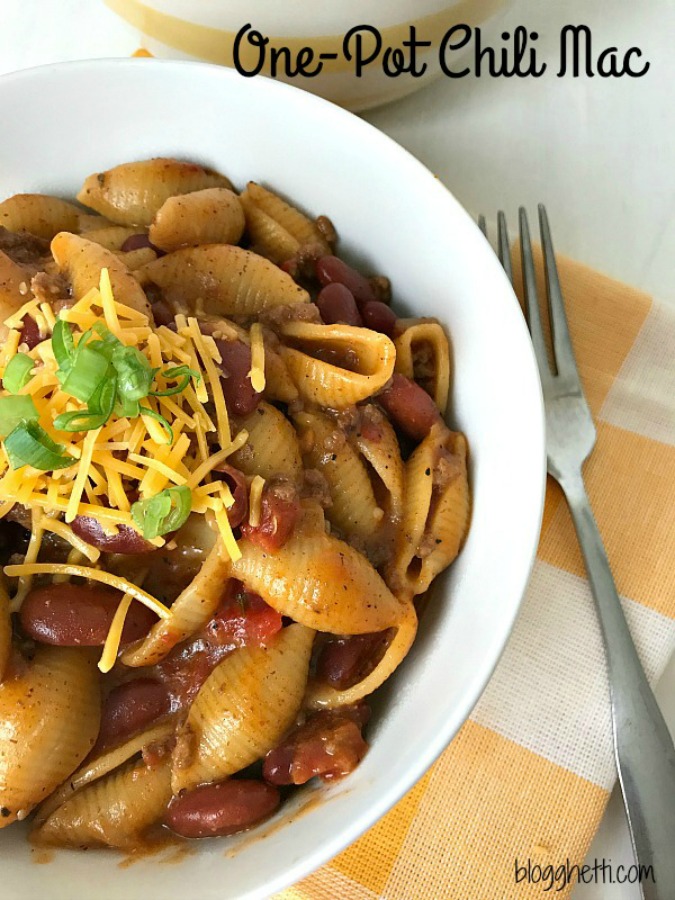 1 yellow onion, diced
2 cloves garlic, minced
1 lb lean ground ground beef
32 oz unsalted chicken stock
1 cup water
1 can (14.5 oz) Red Gold diced tomatoes with green chilies
1 can (15 oz) Red Gold tomato sauce
2 cans (16 oz) light red kidney beans (don't drain)
3 tbsp [Homemade Chili Seasoning mix | http://blogghetti.com/2015/01/homemade-chili-seasoning-mix.html] **
½ tsp kosher salt
¼ tsp ground black pepper
16 oz box uncooked shell pasta
1½ cups shredded sharp cheddar cheese,
sliced green onions
shredded cheese
In a large dutch oven, combine onion and ground beef over medium-high heat. Cook until browned, about 5-8 minutes, breaking the meat up as it cooks. When ground beef is cooked through, add the garlic and let cook another minute.
Add the chicken stock, water, tomatoes, tomato sauce, kidney beans, chili seasoning mix, salt and pepper, and pasta. Bring to a boil over medium high heat, stirring occasionally.
Once boiling, reduce heat and simmer for an additional 15 minutes, until noodles are soft and tender. Stir occasionally so the noodles don't stick to the bottom of the pan.
Add in one cup of the shredded cheddar cheese and stir into pot of chili.
Top with sliced green onions and shredded cheese if desired when serving.
** If you do not have the ingredients to make the Homemade Chili Seasoning mix, you can substitute a package of chili seasoning mix and adjust the added salt accordingly.