Blueberry Skillet Biscuits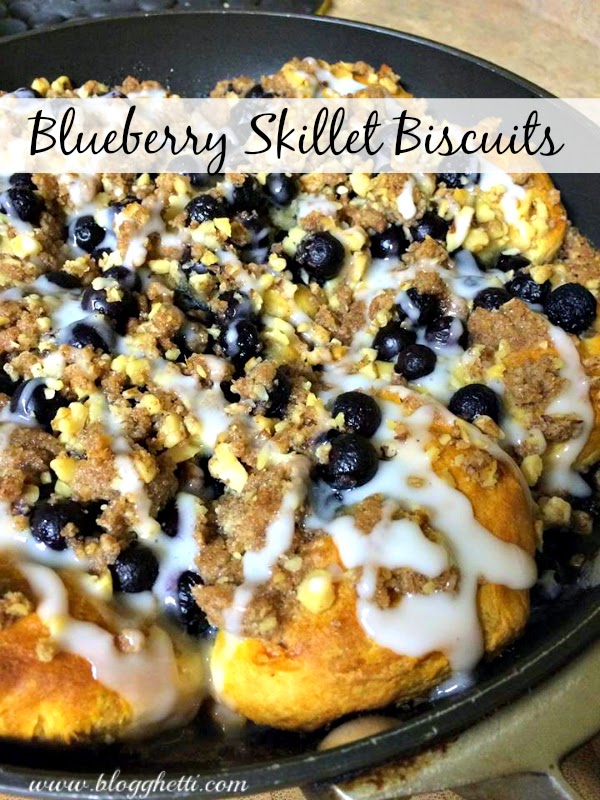 ¼ cup chopped walnuts
¼ cup granulated sugar
2 tbsp unsalted butter
2½ tbsp all-purpose flour
1 tsp ground cinnamon
2 tbsp unsalted butter
1 tbsp light brown sugar
1 (12-ounce) tube of Pillsbury Grands, Jr. biscuits
1 cup blueberries, fresh or frozen and thawed
1 cup powdered sugar
1-2 tbsp milkInstructions:Preheat the oven to 375 degrees.
Combine the walnuts, sugar, butter, flour, and cinnamon in a food processor and pulse until large crumbs form.
In a 9-inch ovenproof skillet, melt the butter and brown sugar over medium heat until melted.
Arrange the biscuits in a single layer in the skillet over the butter and brown sugar mixture.
Scatter the blueberries over the biscuits, and then top with the streusel topping.
Bake until the biscuits are golden and a toothpick inserted in the center of a biscuit comes out clean, about 30 minutes. Allow to cool slightly and serve from the skillet.
While cooling, prepare your glaze. Mix the powdered sugar with 1 tablespoon of milk. Add more milk by a tablespoon at a time till you have the desired consistency, Drizzle over warm biscuits.
Recipe by
Blogghetti
at https://blogghetti.com/2015/01/blueberry-skillet-biscuits.html