Beer and Honey Barbecue Chicken Skewers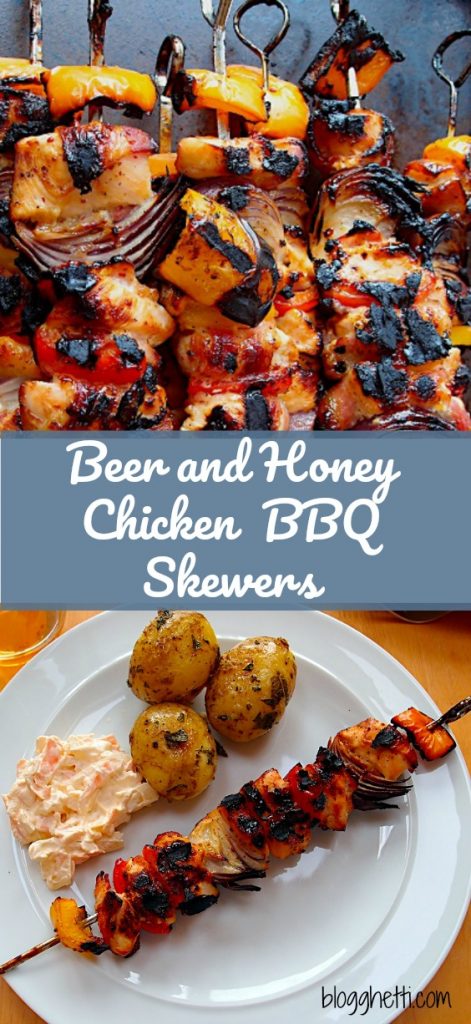 2 cloves minced garlic
1 cup beer (any brand)
⅓ cup honey
1 teaspoon red pepper flakes
1 teaspoon Dijon mustard
¼ cup soy sauce
1 tablespoon olive oil
4 uncooked chicken breasts, cubed
Cilantro
Whisk together all ingredients, except for chicken and cilantro until mixed thoroughly. Add the cubed chicken to the mixture, making certain to coat all pieces thoroughly. Place all contents in a bowl and cover with plastic wrap. Place in the refrigerator and allow to marinate at least 2 hours, but up to 24 hours.
Start preparing the grill for cooking. If you are using a gas grill, set it to medium-high option and let it reach its initial temperature. If using a charcoal grill, allow the coals to "burn down" to a uniform gray color with glowing red coals underneath. Brush the grill lightly with oil or spray with a non-stick oil coating before placing the meat on the grill. Thread the chicken pieces onto skewers, allowing about five pieces per skewer. Save the marinade for basting.
Place the chicken skewers on the heated grill, turning every couple of minutes while brushing on marinade with each turn. Grill about 15-20 minutes or until chicken is cooked thoroughly. The chicken pieces should have an internal temperature of 165 degrees Fahrenheit and the juices should run clear with no trace of pink.
Garnish with cilantro and serve on a platter.
Preheat the oven to 400 degrees F. Place the chicken on a baking sheet covered with aluminum foil. Brush each piece of chicken liberally with the beer/honey mixture.
Bake at 400 degrees F for 30-40 minutes or until chicken is tender with an internal temperature of 165 degrees Fahrenheit, and juices run clear when pierced with a fork. Brush chicken with marinade every 10 minutes as it cooks, turning at least once.
Sprinkle with cilantro prior to serving. Or, if cilantro is not to your liking, a light sprinkling of chopped green onion tops can add a pleasing appearance with a dash of flavor.
Recipe by
Blogghetti
at https://blogghetti.com/2017/08/beer-and-honey-barbecue-chicken-skewers.html