Tator Tot Sloppy Joe Bake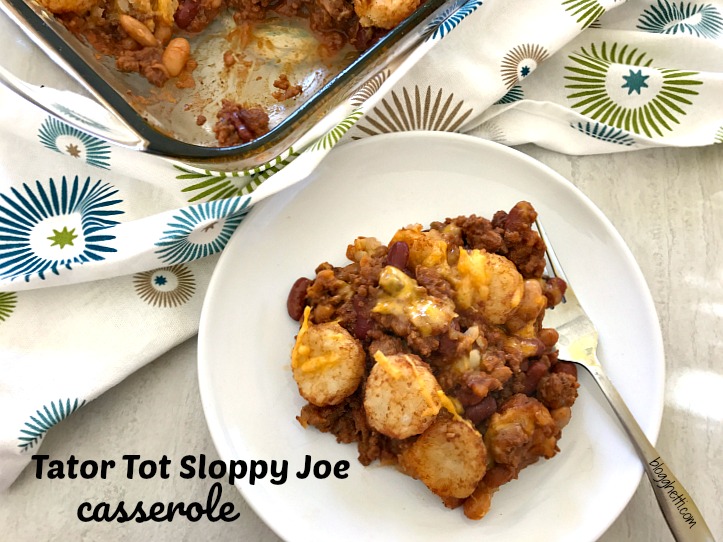 1 pound lean ground beef (I like to use Laura's Lean ground beef)
2 cloves garlic, minced
1 small onion, diced finely
8 oz can tomato sauce
½ cup ketchup
2 tbsp brown sugar
2 tbsp Worcestershire sauce
1 tsp yellow mustard
¼ tsp onion powder
Salt and pepper, to taste
1 (15-oz) can pinto beans, rinsed & drained
1 ½ cups grated sharp cheddar cheese, divided
1 (16-oz) bag frozen tater tots or rounds
Preheat the oven to 425 degrees and spray a 13 x 9 inch casserole dish with non-stick spray. Set aside.
In a large skillet, brown the ground beef until it's nearly cooked through. Add the onion and garlic and continue to cook until onions are tender and beef is cooked through. Drain the grease from the meat, if necessary. I find that when I use Laura's lean ground beef, I don't have to drain the grease as there really isn't any. Return meat and onions to skillet.
While the ground beef is browning, grab a medium bowl and combine the tomato sauce, ketchup, brown sugar, Worcestershire sauce, mustard, onion powder, and salt and pepper, to taste.
Pour the sauce over the cooked ground beef and onions, stir to combine, and mix in the pinto beans. Simmer for 15-20 minutes until heated through and slightly thickened, stirring occasionally.
Spoon the sloppy joe mixture into the prepared casserole dish and sprinkle with 1 cup of the grated sharp cheddar cheese.
Arrange the frozen tater tots in a single layer on top. Sprinkle with the remaining cheese and bake for 25 to 30 minutes or until the cheese is melted and the tater tots are browned.
If you have an oven-safe skillet you can prepare this meal in that and bake in oven as directed above creating a one-pan meal!
Recipe by
Blogghetti
at https://blogghetti.com/2017/12/tator-tot-sloppy-joe-casserole.html