Tex-Mex Chicken Foil Packet Recipe #PinterestChallenge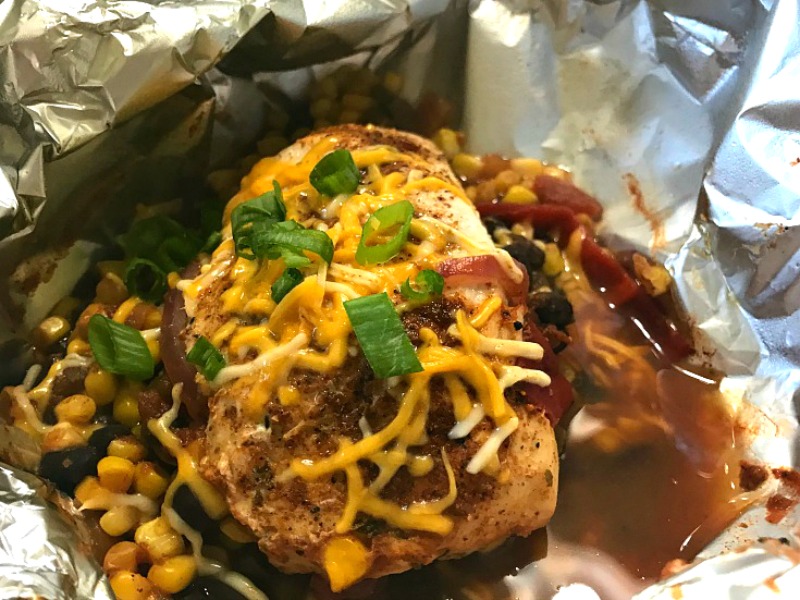 1 can (15 ounces) black beans, rinsed and drained
2 cups fresh or frozen corn (about 10 ounces), thawed
1 cup salsa
1 roasted red bell pepper, cut into strips (or 1 red bell pepper cut into strips)
1 small red onion, sliced into strips
*4 boneless skinless chicken breast halves (4 ounces each – see note)
1-2 tbsp homemade fajita seasoning
1 cup shredded taco blend cheese (or whatever cheese you prefer)
2 green onions, chopped
Preheat oven to 425 degrees or preheat grill.
Lay four 15x12 inch pieces of heavy-duty foil on your prep surface.
In a medium bowl, combine black beans, corn and salsa. Divide evenly among the four pieces of foil.
Top each packet with a few roasted red pepper and onion strips.
Place chicken breasts over the top of vegetables. Sprinkle fajita seasoning over chicken. Fold up the long sides of the foil over chicken, and then seal tightly. Then, seal up the two smaller sides.
Place packets in a 425 degree oven and bake for 15-20 minutes, or until chicken is done (165 degrees). OR – grill over medium heat for the same amount of time.
Open foil packets carefully to allow the steam to escape.
Top with cheese and green onions.
*This recipe is best when you use a thin boneless and skinless chicken breast such as those from Perdue Perfect Portions or you can butterfly a large piece of chicken to fit. Thicker breasts will take much longer to cook and the vegetables will be mushy.
Recipe by
Blogghetti
at https://blogghetti.com/2018/08/tex-mex-chicken-foil-packet-recipe-pinterestchallenge.html