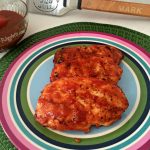 Print Recipe
Sweet Heat BBQ Chicken
The Sweet Heat BBQ Sauce has a subtle sweet taste when you first try it, then the heat gets you. Not too spicy (though you can adjust the spices to your tastes) but just enough for you to notice the sweet-heat combination. It's the perfect combination for a BBQ sauce.
For the BBQ Sauce:
2

cups

ketchup

1/2

cup

spicy brown mustard

1/2

cup

cider vinegar

3

tbsp

Texas Pete hot sauce

2

tbsp

maple syrup

1

tbsp

Worcestershire sauce

2/3

cup

packed light brown sugar

2

tbsp

dried onion

1/4

tsp

ground chipotle

3

tbsp

unsalted butter

boneless and skinless chicken breasts

as many as you need to feed your family

salt and freshly ground pepper to taste.
To prepare the sauce:
In a medium sauce pan, combine and stir the ketchup, spicy brown mustard, cider vinegar, hot sauce, brown sugar, dried onion, and ground chipotle.

Bring to a simmer over medium heat and let cook till thickened, about 20 minutes.

Remove from heat and stir in the butter. Set aside to cool and use at room temperature. Store unused sauce in an airtight container in the refrigerator. for several weeks.
To cook the chicken:
Season the chicken breasts with salt and pepper

Heat grill to medium temperature

Grill the chicken till it's cooked through, about 20 minutes, turning once halfway.

Brush on sweet heat BBQ sauce when there is five minutes left of cooking time. Turn and repeat the other side.

Serve with extra sauce on the side.

Recipe from: Country Cooking from a Redneck Kitchen cookbook.