All the flavors of the classic lasagna dish but with a fun twist. Lasagna Roll-Ups are a new way to build the classic dish and serve it up in individual-sized portions.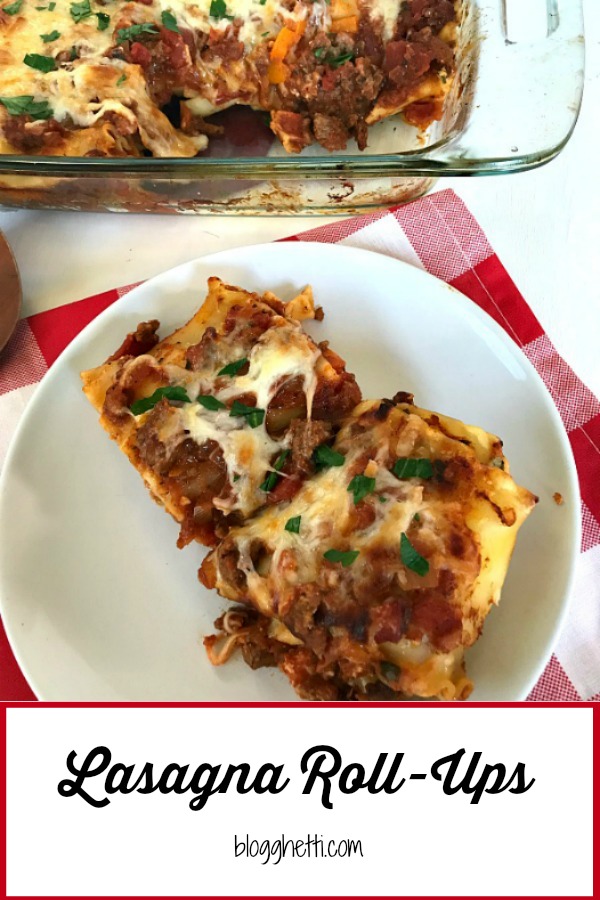 Lasagna is a favorite in this house, but I rarely make it.  When I do, it's an all afternoon affair.  I let the sauce simmer for hours, boil the noodles, and then assemble the dish to bake for an hour.  I know there are easier ways to make lasagna, like using the no-boil noodles, but it's not my style.  Then, sometimes when you cut into the big saucy pasta dish, the layers don't stay together. Not a huge issue, but makes it harder to serve individual portions.
What's my solution? These simple and delicious Lasagna Roll-Ups.  While it doesn't eliminate the all of the simmering of the sauce or not boiling the noodles, it does make perfect individual-sized portions.  I'm good with that!  Plus, it takes less time to bake in the oven, AND you can freeze individual portions for future lunches or dinners.  Just pop them out of the freeze, thaw, and microwave till hot or heat in 350 degree oven till hot covering with foil till almost done then remove to let cheese brown up. That, my friends, is my best tip – make, freeze, heat, and eat.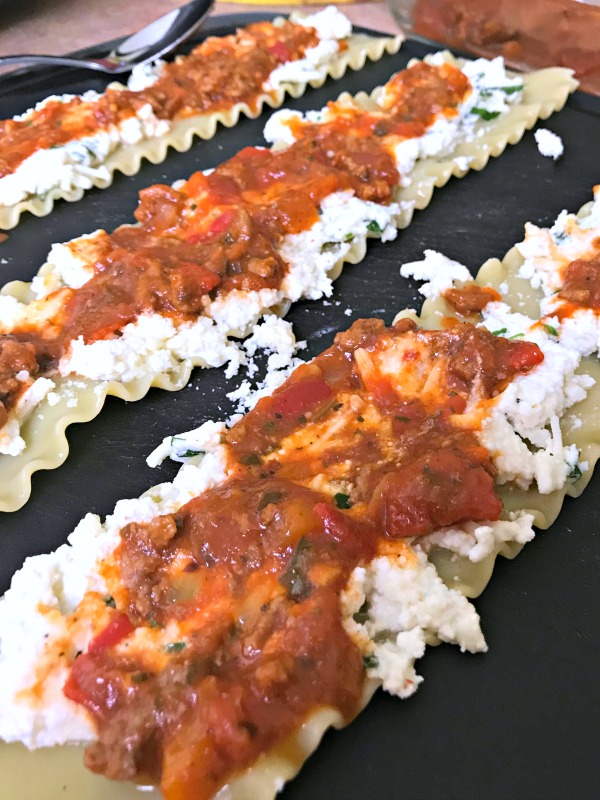 Assembling lasagna roll-ups are easy!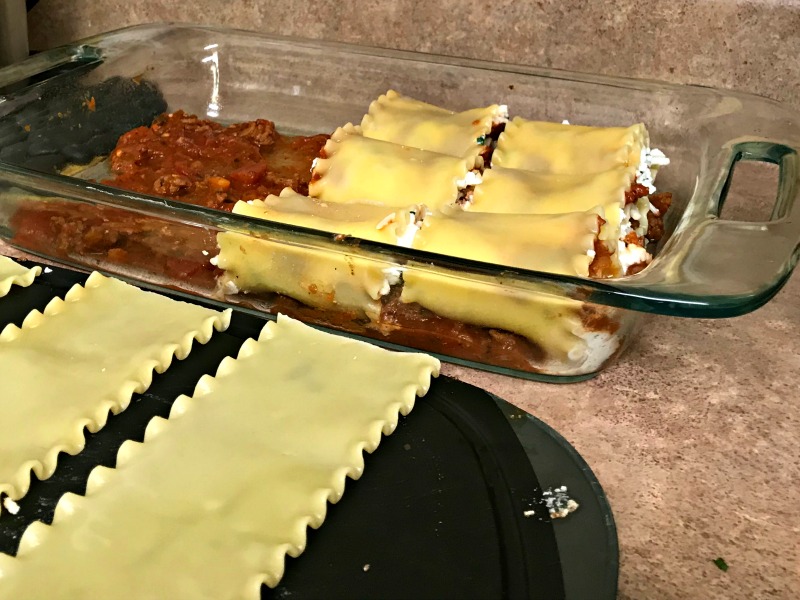 Tip: Double the recipe and freeze one pan for another dinner.
Easy Peasy Lasagna Roll-Ups make a great dinner!Click To Tweet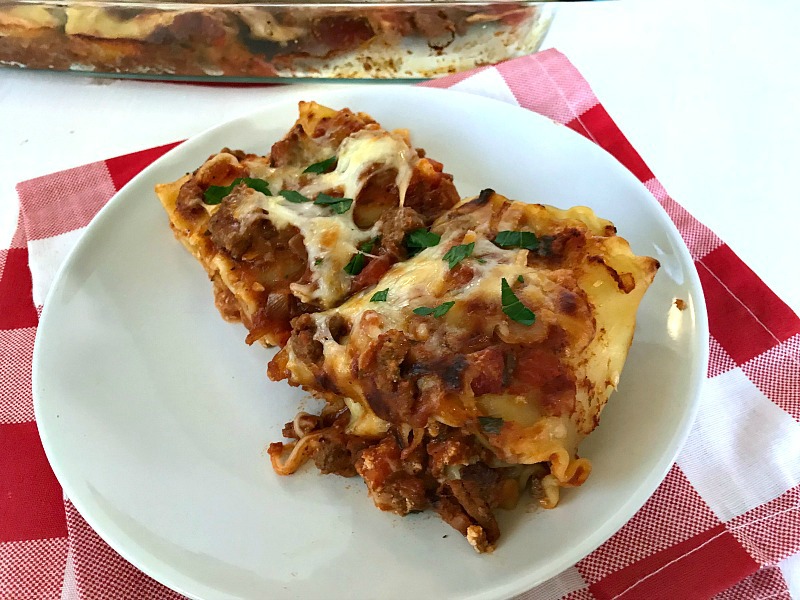 Lasagna Roll-Ups
All the flavors of the classic lasagna dish but with a fun twist. Lasagna Roll-Ups are a new way to build the classic dish and serve it up in individual-sized portions.
Ingredients
1 tbsp olive oil, divided
½ lb lean ground beef
¼ cup finely chopped yellow onion
¼ cup finely chopped green bell pepper
1 (28 oz) can crushed tomatoes
2 cloves garlic, minced
½ tbsp dried basil
½ tsp dried oregano
Salt and freshly ground black pepper, to taste
1 (15 oz) container Ricotta Cheese
1 large egg
⅓ cup fresh flat leaf parsley, chopped
2¼ cups freshly grated Mozzarella Cheese, divided
¾ cup freshly, finely grated Parmesan Cheese, divided
⅓ cup freshly, finely grated Romano Cheese
¼ tsp salt
¼ tsp freshly ground black pepper
12 uncooked lasagna noodles
Instructions
Preheat oven to 375 degrees. Spray 13x9 inch pan with non-stick spray.
Drizzle one tablespoon olive oil into a large non-stick fry pan. Heat over medium high heat. Brown ground beef, and when almost done, add chopped onion and bell peppers; cook mixture stirring occasionally and breaking up meat, until meat is done, and vegetables are soft. Drain fat from beef, if needed.
Add crushed tomatoes*, minced garlic, basil, and oregano; stir. Season sauce with salt and pepper to taste then cover with a lid and simmer over low heat while preparing pasta and cheese mixture.
Cook lasagna noodles in a large pot of boiling water along with 1 to al dente according to directions listed on package. Once noodles are cooked, drain and immediately line noodles in a single layer on waxed paper or cookie sheets.
While the noodles are cooking, prepare cheese mixture by stirring together Ricotta cheese, egg, ¼ tsp salt and ¼ tsp pepper with a fork in a large mixing bowl until well combined. Stir in chopped fresh parsley. Add in 1¾ cups grated Mozzarella Cheese, ½ cup Parmesan Cheese and ⅓ cup Romano Cheese, stir mixture until well combined.
Stir meat sauce and spread ⅓ cup evenly on the bottom of the prepared baking dish.
Spread ¼ cup cheese mixture evenly onto each cooked lasagna noodle, then spread 1 heaping tablespoon meat sauce along the top of cheese covered noodle. Roll noodles up jellyroll style and arrange seam side down in baking dish.
Cover rolled noodles with remaining meat sauce, then sprinkle remaining ½ cup Mozzarella Cheese and ¼ cup Parmesan Cheese evenly over roll ups.
Tent lasagna roll ups with foil (don't allow foil to rest on cheese or it will stick you just want to loosely tent to prevent the cheese from browning) and bake for 35 minutes in preheated oven.
Notes
* If you have picky eaters who do not care for the tomato chunks, you can place pulse the tomatoes in a blender to a smoother consistency before you add them to the meat mixture.
Connect with
Blogghetti

! Be sure to follow me on my social media, so you never miss a post!

Facebook | Twitter | Pinterest | Instagram

REMEMBER TO SUBSCRIBE TO BLOGGHETTI NEWSLETTER FOR FREE AND RECEIVE FRESH RECIPE NOTIFICATIONS DELIVERED INTO YOUR INBOX EVERY WEEK!

Enjoy!