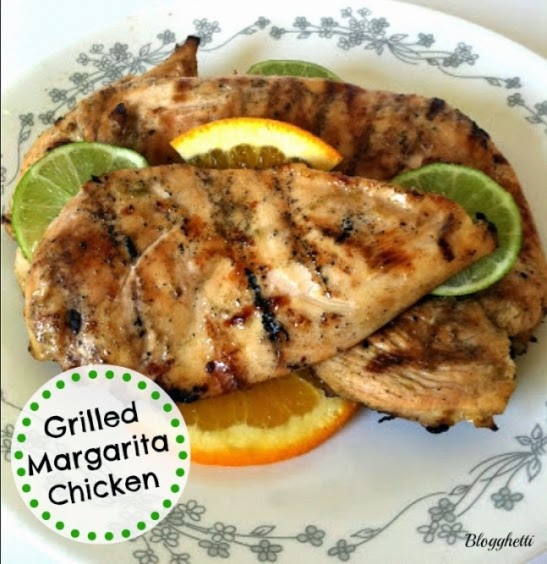 I've had this recipe ready to go the week of Cinco de Mayo and of course for some reason Blogger wouldn't post it and then it vanished so here's to trying again! The day I was going to grill this chicken was the day I had studied all day for a World Civilization final and by the time dinner rolled around I was in no mood to cook.  All I really wanted to do was close my eyes and not think about any World Wars or anything Ottoman Empire related so I did what any full-time student/mother/wife would do - announced dinner would be out! So, this chicken got an extra day of marinating and wow, it was good! Fresh ingredients are the star of this one- limes, oranges, garlic, and jalapeno peppers along with some other seasonings, and of course, tequila.  The chicken grilled up in no time and the taste of all the flavors from the marinade were all through the tender meat.  Reserve a bit of the marinade BEFORE adding it to the chicken to drizzle over the chicken once it's cooked through.  Serve up with your favorite sides and don't forget the margarita!

Grilled Margarita Chicken

Ingredients
4-5 boneless skinless chicken breasts
2 ozs. tequila
¼ cup extra virgin olive oil
1 jalapeño pepper, minced and seeded (depending on your threshold for the heat)
4-5 cloves garlic, minced
2 tsp ground cumin
1 tsp kosher salt
½ tsp pepper
1 tbsp lime zest
1 tbsp orange zest
½ cup fresh squeezed lime juice (depending on size of limes, about 3-4)
¼ cup fresh squeezed orange juice (about 1 orange)
Instructions
Place all ingredients except the chicken into a resealable gallon size Ziploc bag and close the bag.
Gently shake the marinade till it's mixed well.  (You can also use a small bowl and whisk the marinade, but I hate extra dishes.)
Now is the time to reserve about ¼ cup of the marinade to drizzle over the cooked chicken.
Add the chicken to the bag and securely close.  Knead the chicken and the marinade till the meat is covered with the
Place in the refrigerator to marinate for at least 4 hours and not to exceed 48 hours. Any longer and the chicken isn't good to cook anymore.  Turn the bag over a few times during the marinating time.
While the grill is preheating to medium-high, place chicken on the counter to come to room temperature.
Grill chicken about 5 minutes on each side. Drizzle with reserved marinade and serve.

Enjoy!