This post may contain Amazon or other affiliate links. As an Amazon Associate I earn from qualifying purchases. Click
here
to read our privacy policy.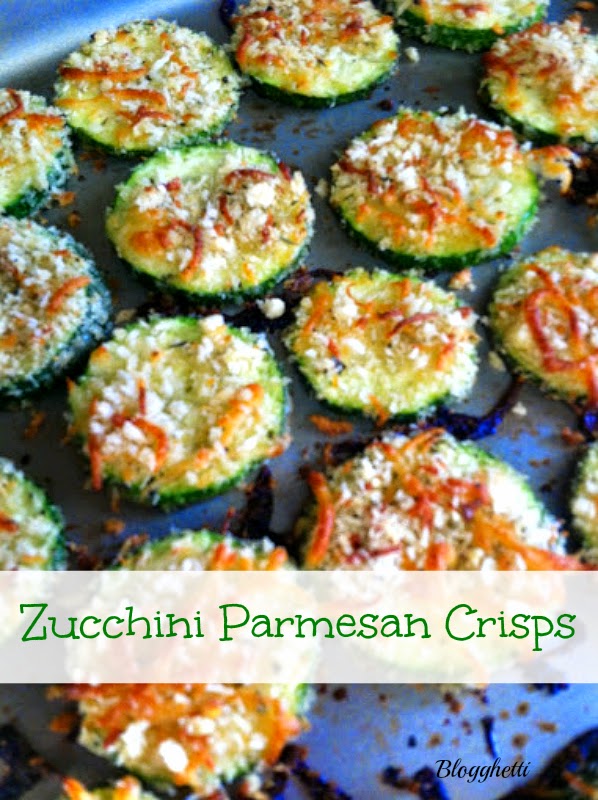 Jazz up zucchini with Parmesan cheese and bread crumbs and bake till crisp for a great side dish, appetizer, or snack. I could eat the whole tray by myself if I wanted to but that wouldn't be
fair to the rest of the family. If you don't have freshly grated Parm, you can use the prepackaged shredded kind and I even have used an Italian blend of cheeses and it works great.
Ingredients:

2 medium zucchini
1 1/2 tablespoon olive oil
1/2 cup freshly grated Parmesan
1/2 cup seasoned Panko bread crumbs
1/8 teaspoon salt
salt and pepper to taste

Instructions:

Preheat the oven to 450 degrees. Spray a baking sheet with non-stick spray.
Slice the zucchini into 1/4-inch thick rounds.
In a medium bowl, toss the zucchini with the oil.
In a small bowl, combine the Parmesan, bread crumbs, salt and pepper.
Dip each round into the Parmesan mixture, coating it evenly on both sides, pressing the coating on to stick, and place in a single layer on the prepared baking sheet.
Bake the zucchini rounds until browned and crisp, 20 – 25 minutes. Remove with spatula.