This Creamy Potato Salad is a reliable favorite for any picnic, potluck, or simply as a side dish with a grilled hot dog.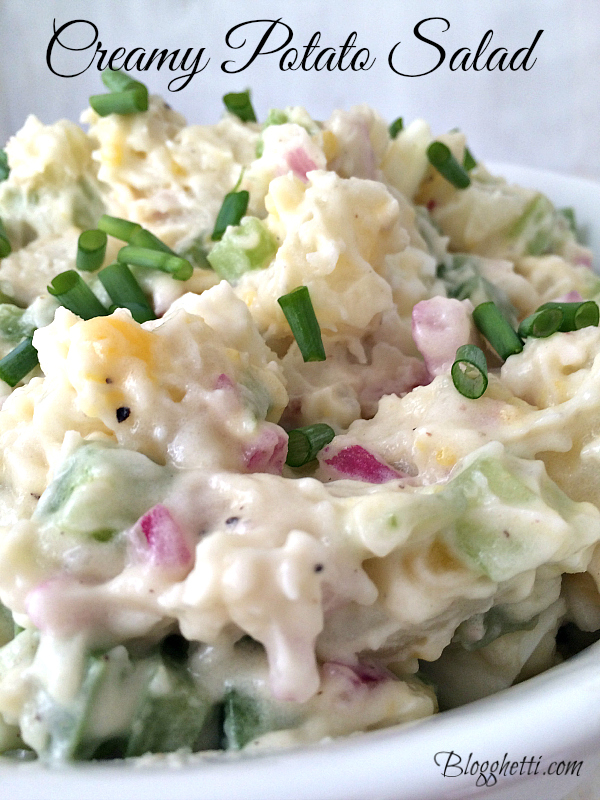 I don't make potato salad nearly enough and I always wonder why not since it is so good.  Years ago there was a lady at the place I worked who would bring the best potato salad ever to our potlucks.  Literally we had to fight over the last spoonful, it was that good.  She would never share her mother's recipe despite our constant begging and bribing her.  Sadly, I cannot even recreate it because there was something so different in the taste that we could never pinpoint it down.  I came to grips with this and knew I would have to stick to my own recipe which is pretty darn good as well.
Back when my husband and I were first married we pinched pennies and very often bought the no-label brands of food at the grocery store.  Now, some of this food is pure crap and we learned fast but many items were just re-labeled from major brand names.  There was a no-label mac & cheese that was out of this world good – better than Kraft ever could be.  Of course we haven't had boxed mac & cheese in decades (thank goodness).  I would buy the no-label mayonnaise and on the back of the jar was a potato salad recipe.  I have used this as the basis for my potato salad for decades and it's a hit!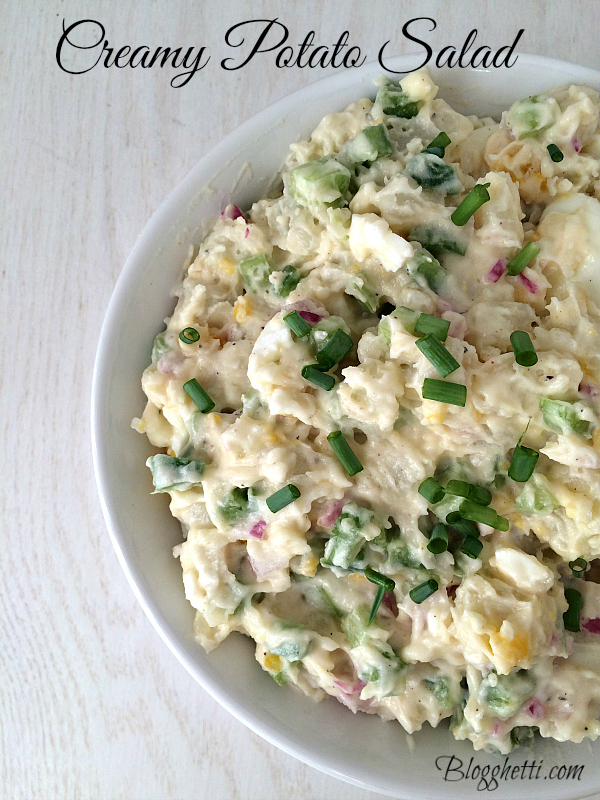 Creamy Potato Salad
This Creamy Potato Salad is a reliable favorite for any picnic, potluck, or simply as a side dish with a grilled hot dog.
Ingredients
1 - ½ cups of Mayonnaise (or to taste)
1 - 1½ tsp salt
½ - 1 tsp pepper (or to taste)
1 tsp sugar
2 tbsp cider vinegar
2 lbs potatoes (about 4½ cups - cooked, peeled and cubed)**
1 cup chopped celery
½ cup chopped red onion
¼ cup green bell pepper, chopped (or whatever color bell pepper you may have)
4 hard boiled eggs, chopped
2 tsp ground dry mustard
sliced green onion for garnish
Instructions
**if you prefer to you can boil your potatoes first then peel and dice - I peel, dice, and then cook the potatoes. Drain and lay them on a baking sheet to cool (you can speed the process up by placing the baking sheet in the refrigerator for about 20 minutes to cool the potatoes faster) Whatever method works best for you!
Cook your potatoes by whichever method above. Be sure the potatoes are cooled (or chilled) before combining with the dressing.
In a large bowl, combine mayonnaise*, vinegar, sugar, dry mustard, salt and pepper. Mix well. Taste to see if you need more of any of the dry mustard, salt and pepper.
Add celery, bell peppers, and onion to dressing and combine.
Fold in the potatoes and chopped eggs gently so as to not mash them.
*I always start with about 1¼ cups of mayonnaise and then after all ingredients are added, I taste-check to see if I need to add more. Sometimes I don't but there are times when I need to add a bit more.
Cover and chill.
Garnish with sliced green onion before serving.
Connect with
Blogghetti

! Be sure to follow me on my social media, so you never miss a post!

Facebook | Twitter | Pinterest | Instagram

REMEMBER TO SUBSCRIBE TO BLOGGHETTI NEWSLETTER FOR FREE AND RECEIVE FRESH RECIPE NOTIFICATIONS DELIVERED INTO YOUR INBOX EVERY WEEK!

Enjoy!