This post may contain Amazon or other affiliate links. As an Amazon Associate I earn from qualifying purchases. Click
here
to read our privacy policy.
Who doesn't love a great Baked Potato? Forget about the oven, Baked Potatoes in the Crock Pot are the easiest way to make them. Slow cooked baked potatoes turn out soft and tender, ready for your favorite toppings.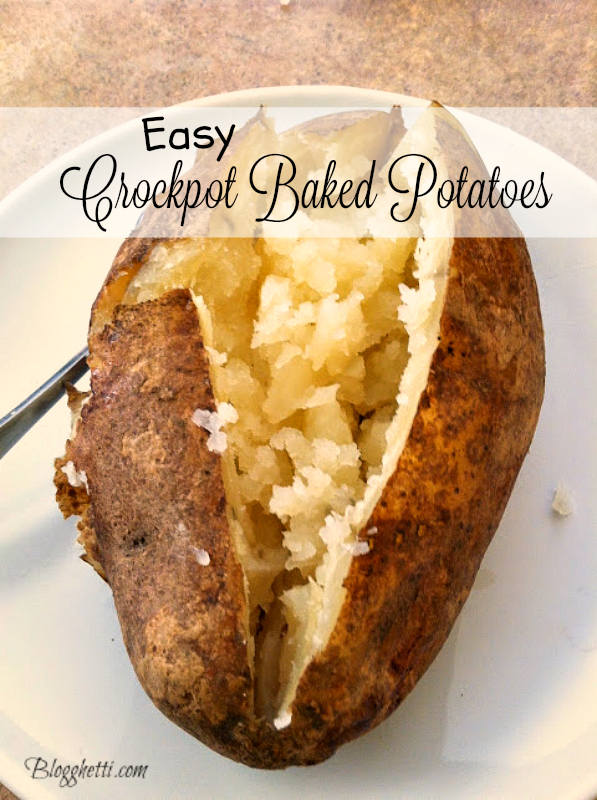 How do you make your baked potatoes? Grill them, baked in the oven or in the crock pot? I make them all three ways. I never really liked them in the microwave so for me, that's not an option. The first time I made baked potatoes in the crock pot my husband said it seemed like it was a lot of work.
Work?!?! How is it work? Wrap 'em in foil and put 'em in the crock pot. Turn it on and go about your business. I mean you do have to flip them over occasionally but you would have to do that with the other cooking methods too. Even the flipping over is really optional in the crock pot. My kitchen isn't heated up for an hour nor do I have to go outside in the 100 degree heat to the grill! Good thing I was cooking that night and not him.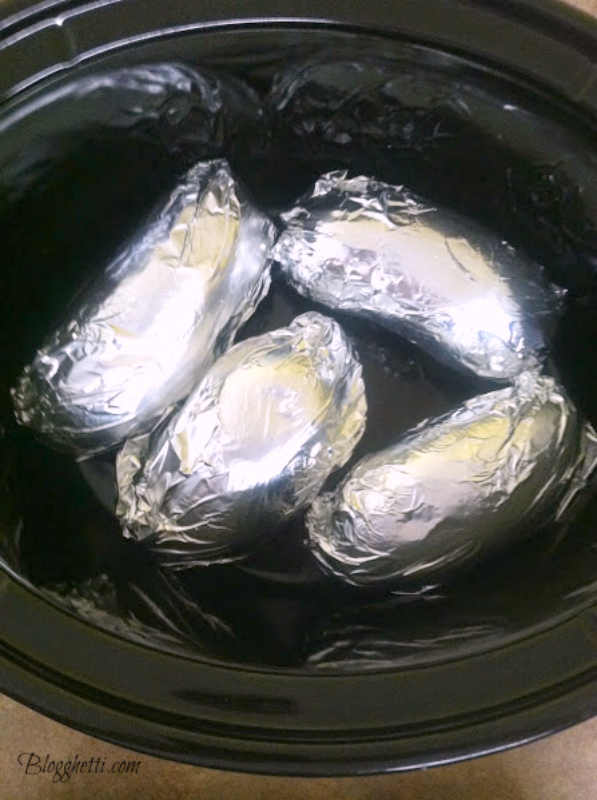 The potatoes came out so fluffy and I wasn't expecting that. I thought they may be mushy but I was wrong. I am sure if you overcook them as with any method, they will become mushy. Before wrapping the spuds in foil, you can drizzle a bit of olive oil and sprinkle kosher salt and fresh ground pepper for a bit more flavor and softer skin. The skin is quite soft though so if you forget or don't want to add the oil, no worries. Try them the next time you have baked potatoes on the menu.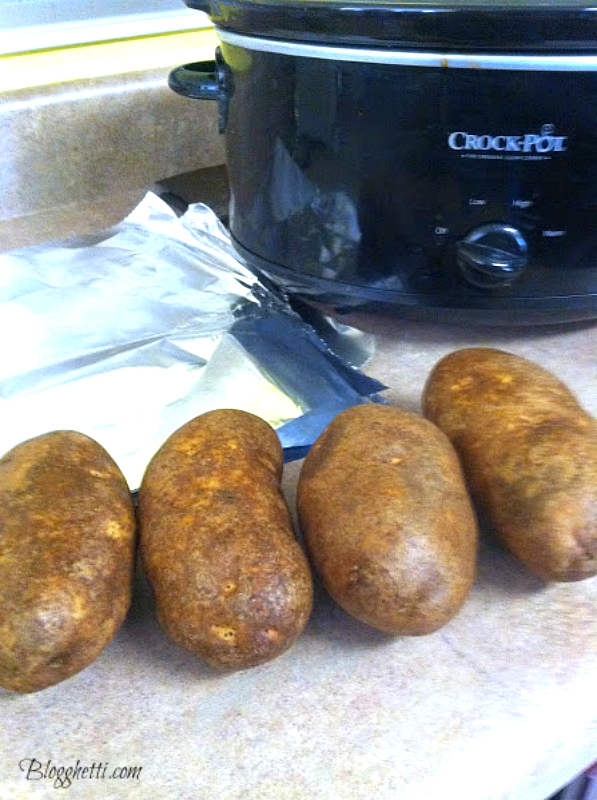 [click_to_tweet tweet="Crock Pot Baked Potatoes are easy to make and they turn out super tender and fluffy. #crockpot #slowcooker #potatoes #baked #easypeasy #food #goodeats" quote="Using your Crock Pot to bake potatoes for 2, 4, or a crowd is smart cooking."]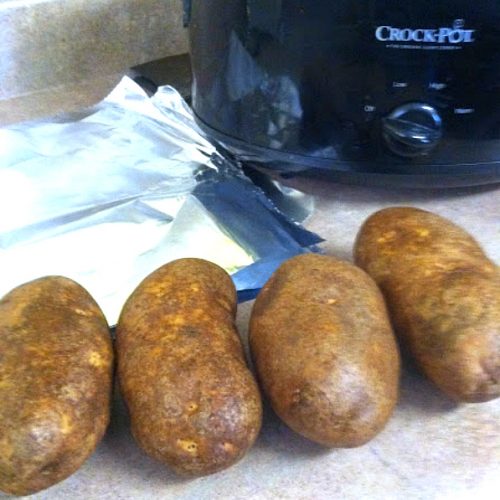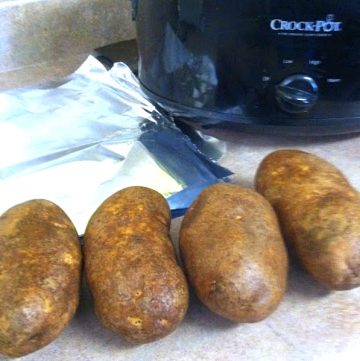 Ingredients
4

Russet potatoes

or however many you need to feed your family

aluminum foil

baked potato toppings: cheese

butter, bacon, green onion, sour cream, or whatever your favorite toppings are.
Instructions
Scrub potatoes and dry. With a fork, prick holes in each potato 6-8 times. This will help steam escape and your potato won't blow up while it's cooking.

Wrap each potato in aluminum foil.

Place in crockpot. Turn on high for 4 hours or 8 hours on low. Larger potatoes may take longer. I used large baking potatoes and they took about 4 1/2 - 5 hours to bake (on high.)

Remove from crockpot. Be careful opening the foil as the steam will give you a nice facial!

Cut open and add your favorite toppings.
Be sure to check out my "Loaded" Chicken Tater-Tot Casserole (Crockpot) recipe in Recipe Lion's Free E-book, Our Best Casserole Recipes: 19 Quick & Easy Casseroles to Try
Enjoy!