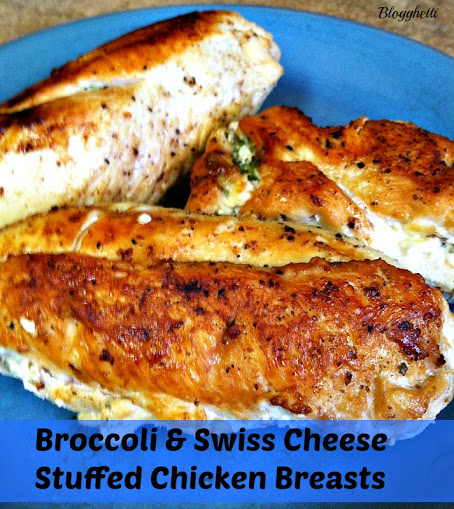 You know the drill….you look in your pantry, refrigerator, and freezer to try to come up with something for dinner when you know you should be at the grocery story buying groceries.  I desperately need to take a trip to the grocery store but a couple of things prevent me from doing so.  One, I have been super busy with classes and finals; and two, I hate that place.  It's my most dreaded place to shop and to think when my girls were young, it was THE place I went to get a bit of sanity back.  Yes, sanity but now, I feel I am insane for going.  Anyway, back to the hunt for dinner.  There's not much here and the family members tell me about it often.  I found a pack of chicken breasts, frozen broccoli. fresh green onion and some Laughing Cow Swiss cheese wedges.  I also had some containers of minestrone soup in the freezer which I heated up to go with this dinner.  One of the things about this impromptu recipe is that you can make it for one, four, or as many as you need to.  Another great point is that it's easy to make and you know that's a requirement for me.  This is what I came up with and it was not only good but it's very healthy!
Ingredients:
4 boneless,skinless chicken breasts
4 wedges Laughing Cow Swiss cheese
steamed broccoli, chopped (I used a 12oz frozen bag, with some leftover)
green onion, chopped (as much or little as you want for each)
garlic powder
pepper
salt (optional)
2 tbsp olive oil
Instructions:
Preheat oven to 375 degrees.
Pound chicken breasts out to about 1/4 inch thick using a meat mallet or the bottom of a skillet.  Be gentle, the meat will tear easily.
For each piece of chicken:
Sprinkle with garlic powder, pepper and salt (if using).  Place some green onion, broccoli slightly off center on the chicken breast.
Break up the one wedge per chicken breast into small pieces and place over broccoli.
Roll up chicken breasts. tucking ends in and securing with toothpicks.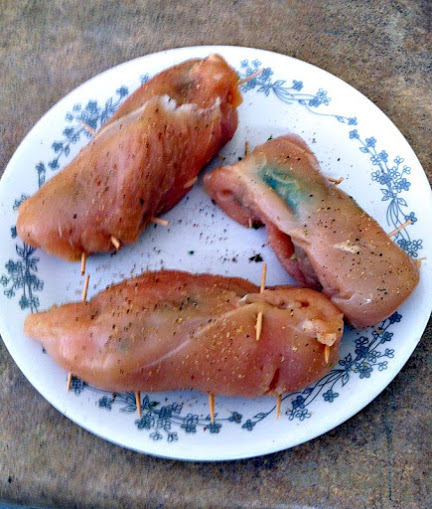 Heat a oven proof skillet with the oil in it.  Brown all sides of the chicken roll.  You don't have to worry about the cheese oozing out of the chicken. The cheese doesn't melt, instead it just gets all kinds of creamy good.
Place skillet in oven and cook till chicken is done, about 30 – 45 minutes. Remove toothpicks before serving.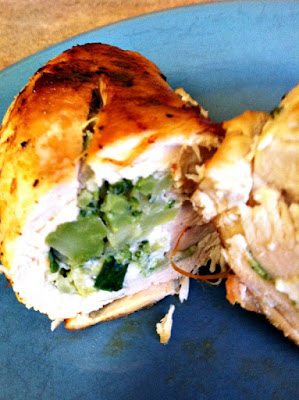 Pardon the lighting on this photo. No idea what happened but it does show the inside and all its yumminess.
Enjoy!