This post may contain Amazon or other affiliate links. As an Amazon Associate I earn from qualifying purchases. Click
here
to read our privacy policy.
Roasting vegetables are my favorite way of making and eating vegetables. The are healthy, crisp, flavorful, and most important, easy to make. Brussel sprouts take a bit longer to roast in the oven than some vegetables but that gives more time for the flavors to bake into them and of course, adding bacon to them is just perfect. On the night I made these I served them with my Roasted Pork with Brown Sugar-Dijon Mustard Glaze and roasted potatoes. The entire meal was done in the oven at the same temperature. How easy is that!?!!
Ingredients:
Brussel sprouts (enough for your family to eat)
Olive Oil
1-2 tsp of minced garlic (add more if you like as I do when the mood strikes me)
Crumbled bacon, about 2 tbsp. (I used the precooked bacon pieces that you can find in the salad dressing aisle)
Grated Parmesan
Salt and pepper, to taste
Instructions:
Preheat oven to 375 degrees.
If your Brussel sprouts are not prewashed, wash them thoroughly and take the outer leaves off. Trim ends and halve the bigger ones. If your sprouts are already prewashed, trim ends as needed and halve the bigger ones. Place on baking sheet.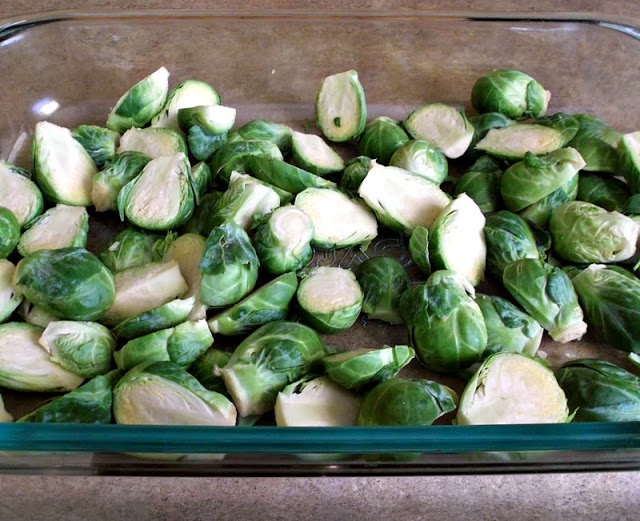 Toss with the garlic, salt and pepper and about 1-2 tbsp olive oil. I just use my hands to do the tossing but if you don't like to get your hands all oily and such, simply place all the ingredients mentioned so far in a ziplock and shake away. Pour out onto baking sheet.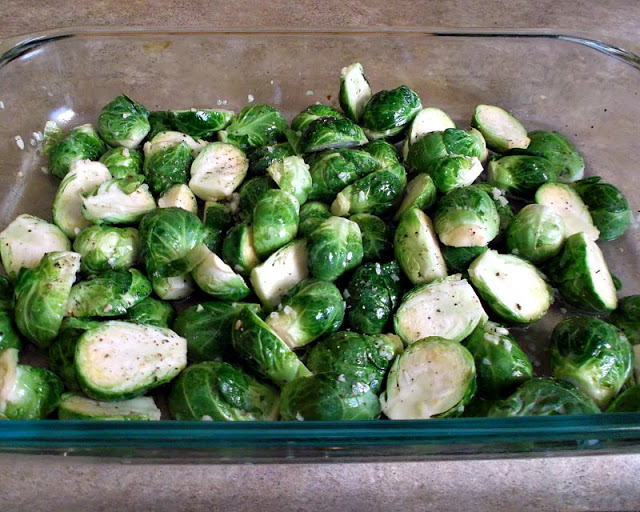 Roast in oven for about 35 minutes, pull from oven and add bacon pieces. Roast till nearly done, about 15 minutes and then top with Parmesan cheese and place back in oven for another 5-10 minutes until melted and the Brussel sprouts are done. Serve.