This post may contain Amazon or other affiliate links. As an Amazon Associate I earn from qualifying purchases. Click
here
to read our privacy policy.
These Chicken Fajita Quesadillas are filled with tender marinated chicken and fajita vegetables and lots of cheese! The recipe is simple, delicious, and healthy.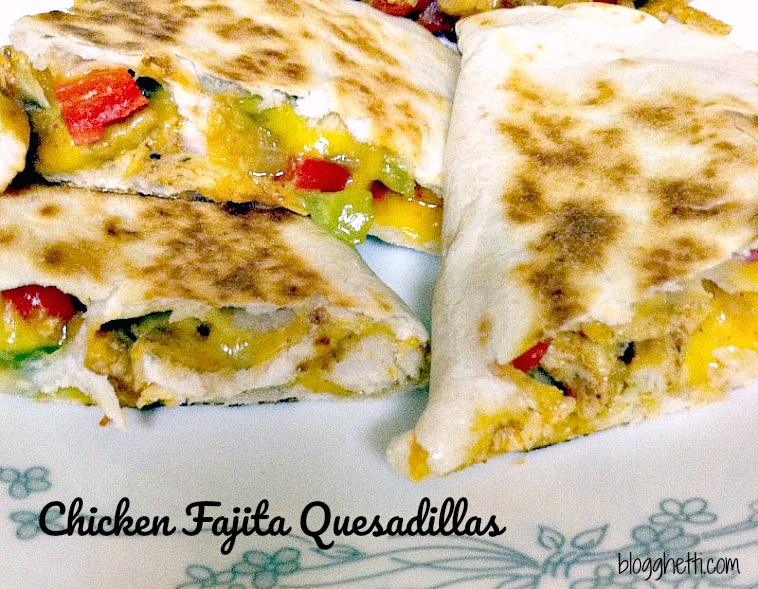 Quesadillas are sandwich's much cooler sibling. Like sandwiches, quesadillas are hand-held, versatile, and easy to prepare. Quesadillas are a traditional Mexican dish that usually involves cheese and a savory mixture of vegetables and/or meat. They're one of my favorite meals to put together at the last-minute because it involves throwing delicious combinations in a tortilla and toasting or frying it until crispy and golden brown.
These quesadillas are served as a pleasingly hearty dinner, yet would be perfect as an appetizer, or even as a snack for munching during your favorite TV show. The filling for these can be made in advance and then heated up when you are ready to make the quesadillas. You can marinate the chicken in the seasonings, as I do, or you can simply mix and go fry up a quesadilla! This is fast food but it's healthy fast food, even with the cheese (adjust the amount you want to your tastes). What I really like about them is that the seasonings isn't one of those fajita or taco seasoning packets that are loaded with sodium and other unmentionable stuff. Once I found the right amount of seasonings, it's been my go to for a number of dishes.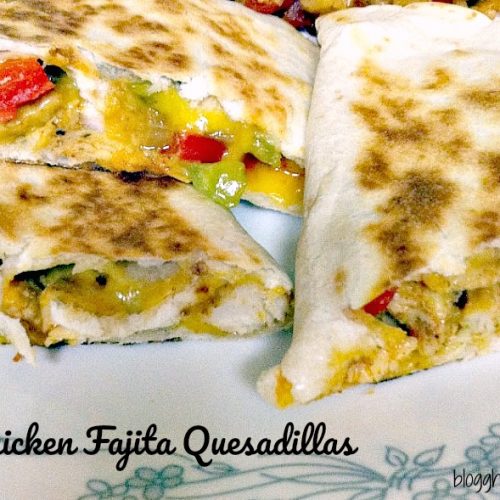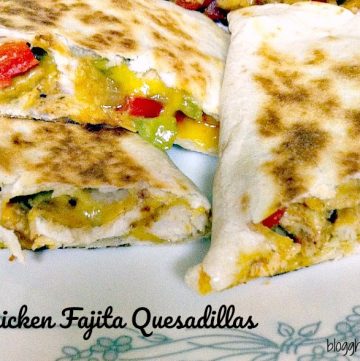 Ingredients
1

pound

boneless

skinless chicken breasts

3

tbsp

extra virgin olive oil

divided

1

green bell pepper

diced

1

red bell pepper

diced

1

medium onion

diced

3

tbsp

Homemade Fajita Seasoning

OR: 2 tsp chili powder, 2 tsp cumin, 1/2 tsp garlic powder, 1/2 tsp dried oregano

flour tortillas

8

ounce

package shredded cheddar cheese

8

ounce

package shredded Monterey Jack cheese

toppings

sour cream, salsa, etc
Instructions
To prepare the chicken and vegetables:
Cut each chicken breast lengthwise in 3 strips; cut crosswise into thin pieces (diced is also good).

If using the Homemade Fajita Seasoning add 2 tablespoons of oil in a small bowl and combine well. OR: Combine the chili powder, cumin, oregano, garlic powder with 2 tbsp of the oil in a small bowl.

Toss the seasoning mix with the chicken, coating very well. Leave the chicken to marinate this way while you are chopping the vegetables or refrigerate and let it marinate for a couple of hours.

Heat the 1 tablespoon of oil in a large skillet over medium high heat.

Add the chicken and cook 7 to 8 minutes or until no longer pink in the center, stirring frequently. Let the chicken brown up nicely before turning it.

Stir in the bell peppers and onion. Cook the vegetables for 5 to 7 minutes or until the vegetables are tender.
For each quesadilla:
Sprinkle 1/4 cup Cheddar cheese on half of a tortilla.

Spoon about 1/2 cup of the chicken mixture over the cheese.

Top with 1/4 cup Monterey Jack cheese and fold the tortilla over, forming a half moon. Press lightly.

If necessary, spray a skillet or griddle with cooking spray; warm to medium heat. Lightly brown each quesadilla for 2 to 3 minutes per side until the cheese is melted.

Cut each into wedges and serve with the toppings of your choice.
Enjoy!