This post may contain Amazon or other affiliate links. As an Amazon Associate I earn from qualifying purchases. Click
here
to read our privacy policy.
Make your own laundry soap and save money in the process. This easy to make recipe for homemade laundry soap will do the job of your regular detergent, last longer (up to a year,) and cost under $25.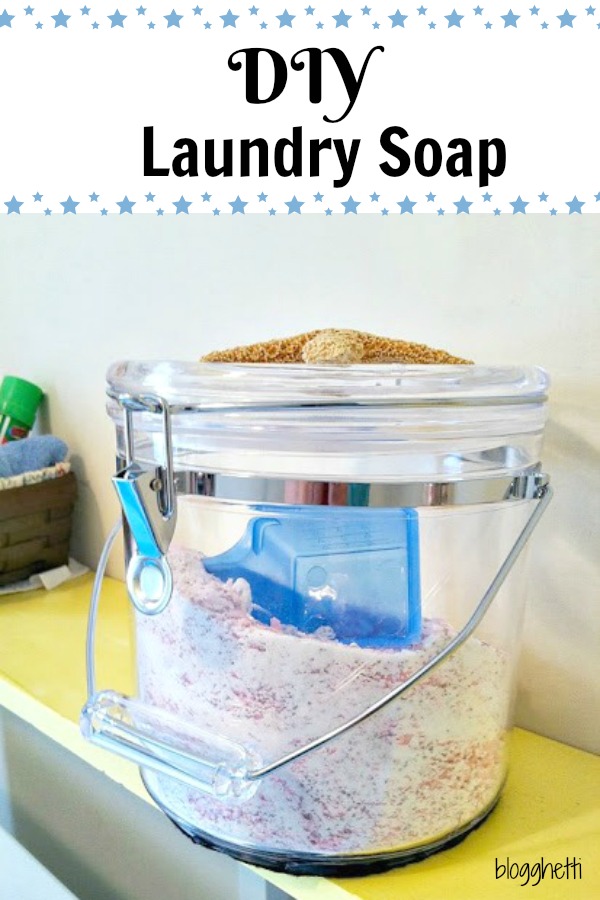 I realize that laundry soap is not a recipe for consumption but I have to share this one with you. For awhile now, I have been trying to find a homemade laundry soap recipe that is GOOD and not only cleans clothes but gets stains out too. I've read numerous blogs on this topic along with the hundreds of comments from those that have tried said soaps. Some were too complicated and even had some ingredients that I wasn't wanting to use or I would just use what I already am. Some weren't very cost friendly for the amount of product it made and a few were just, well…out there in la-la land.
Then I came across one from How Does She and I was interested for several reasons. The first being, it didn't use the Fels Naptha bars of soap. I read some not so good things about that particular brand. Next, it contained a fabric softener and Oxyclean. Last, it will make enough to last a long, long time.
The hardest part of this whole process was hand grating the bars of soap. I tried to do it my mini food processor but it just clumped together. I thought about using my Ninja blender and when I called the customer service dept for it, they advised against it as it wouldn't grate it the way I wanted it and may even ruin the machine. So, out came the box grater and I spent 30 min grating the bars. After that, I got myself a 5-gallon bucket and layered some of each of the ingredients till they were all used and then used a huge wooden spoon to mix it all thoroughly. I only used 1 and a half bottles of the Purex crystals (use to suit your needs.) Done! I poured some of the soap into the clear plastic container so that it would be easier to use. Stored the 5 gallon bucket in the garage.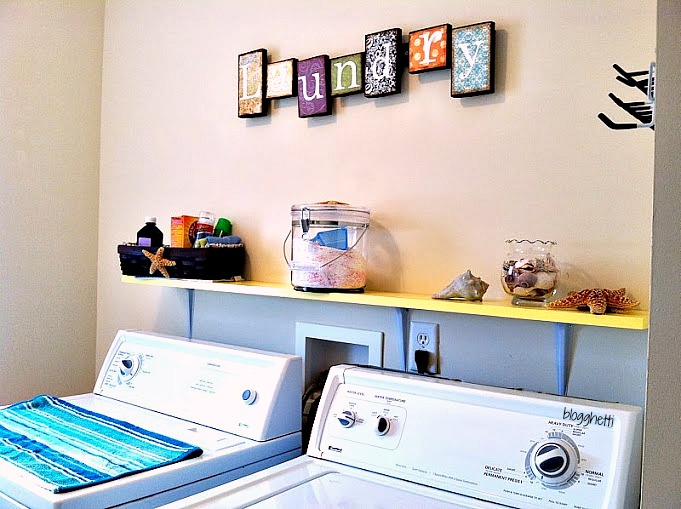 While I didn't think to take pictures along the way, you can view the process on the website I got the recipe from, How Does She. Clean clothes with a laundry soap that works, is key but saving money too, is even better.
To use, you only need 2 tablespoons per load. Yes, just 2 tablespoons and the scoop that came with the Oxyclean has a perfect measurement for 2 tablespoons on it. I have used 3 on heavy or larger loads. I spent a total of $25 on all of the products and it filled the 5-gallon bucket little more than halfway. I figured if it didn't work, I wasn't out that much.
I set off to do my laundry and after 3 loads of coloreds and 1 load of whites, I was VERY pleased with the results. My husband has been coming home from the gym with stinky and sweaty clothes and I was concerned that they may not come clean or smell good. No worries! I did the smelling of the armpits of the shirts (very hesitantly too) and I was amazed…the shirts smelled so clean and fresh. The whites were clean and even stains on the dishtowels came out. It seems to get fresh stains out better than if they sat a day or two but that's really how any detergent works. I just use my baking soda/peroxide/dawn dish soap combo to pre-treat and life is good! We do a lot of laundry for the four of us so one batch usually lasts us about 9 – 10 months – yes that long!
Here is the list of products and amounts for the laundry soap I used: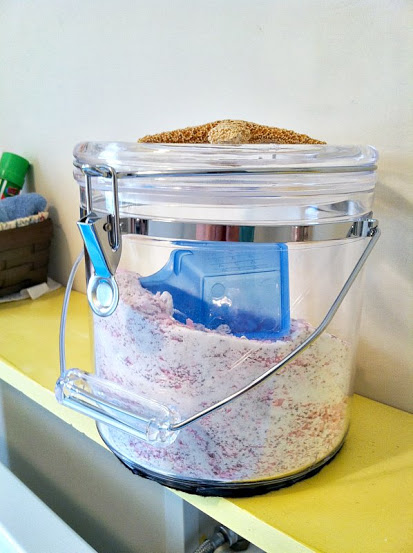 DIY Laundry Soap
Make your own laundry soap and save money in the process.  This easy to make recipe for homemade laundry soap will do the job of your regular detergent, last longer (up to a year,) and cost under $25.
Print
Pin
Rate
Ingredients
1

4 lb 12 oz box Borax

1

3 lb 7 oz box Arm & Hammer Super Washing Soda

1

3 lb container unscented OxyClean

2

14.1 oz bars Pink Zote Soap (I chose to do pink for the scent but the white would be just fine)

1

4 lb box Arm & Hammer Baking Soda

1-2

55 oz bottles Purex Crystals Fabric Softener (This is optional but adding the amount that I did, didn't leave a perfume smell and the towels were soft, too)
Instructions
Grate Zote soap with cheese grater or food processor. (**Update: readers have told me about the already grated Zote soap flakes and one box is equal to 2 bars - only comes in white but I love it.)

Mix all ingredients together in a large bucket. I layer some of each of the products and mix as I go, makes the mixing process a little easier.

Use 2 -4 Tablespoons per laundry load, depending on the size of the loads. I use 2 Tablespoons and it works great.
Enjoy!