This post may contain Amazon or other affiliate links. As an Amazon Associate I earn from qualifying purchases. Click
here
to read our privacy policy.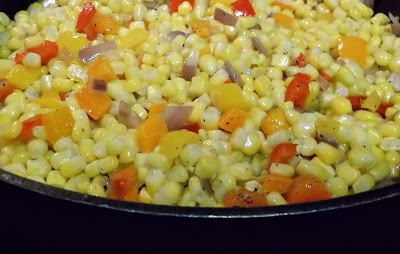 Corn. On it's own, it's rather boring. Don't get me wrong, a good ear of corn when it's in season is totally awesome but when you just make corn, it's blah. You dress it up with butter, some salt and pepper but really it's boring. This is a recipe to wake that corn up and put some zing into it! It's colorful, tasty, and a perfect side dish for any meal. The recipe calls for orange bell pepper but rest assured, you can use any color of bell peppers you have or like. I buy all colors of the peppers when they are in season and chop them up and flash freeze them to have all year round.
Ingredients:
2 tablespoons good olive oil
½ cup chopped red onion
1 small orange bell pepper, ½-inch diced (or any color, I like to use a combination of red, yellow and orange)
2 tablespoons unsalted butter
Kernels cut from 5 ears yellow or white corn (4 cups or you can use 4 cups of thawed frozen corn)
1½ teaspoons kosher salt
1 teaspoon freshly ground black pepper
2 tablespoons julienned fresh basil, minced fresh chives, and/or minced fresh parsley
Directions:

Heat the olive oil over medium heat in a large sauté pan. Add the onion and sauté for 5 minutes, until the onion is soft. Stir in the bell pepper and sauté for 2 more minutes.

Add the butter to the pan and allow it to melt. Over medium heat, add the corn, salt, and pepper and cook, stirring occasionally, for 5 to 7 minutes, until the corn just loses its starchiness. Season to taste, gently stir in the basil or other green herbs, and serve hot.