This post may contain Amazon or other affiliate links. As an Amazon Associate I earn from qualifying purchases. Click
here
to read our privacy policy.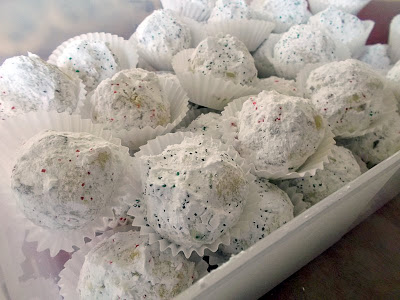 This is probably the most requested cookie that my girls will ask for when it comes to Christmas. In fact, I just sent them each a care package loaded with snacks and cookies to enjoy while preparing for their college finals. This cookie was in there and they were thrilled.
It's so simple to make and if you have a large enough cookie sheet, you can get the entire batch baked in one session. The most time consuming part is rolling them in the powdered sugar.
Ingredients:
1 cup butter, softened
2 1/4 cups flour
1/3 cup sugar
1 Tbsp. water
1 Tsp. vanilla
1 cup chopped pecans
1 cup sifted powdered sugar
Directions:
In a medium mixing bowl beat butter with mixer on medium to high speed about 30 seconds or till softened. Add about half of the flour and all of the sugar, water, and vanilla. Beat till thoroughly combined, scraping sides of bowl a few times. Beat or stir in remaining flour. Stir in pecans.
Shape dough into 1 to 1 1/4 inch balls. Place on ungreased* cookie sheet. Bake in a 375 degree oven for about 20 minutes or till bottoms are lightly browned. Remove cookies and cool on a wire rack. Gently roll cookies in the powdered sugar**. Makes about 36.
* I typically will spray pan lightly with non-stick spray anyway
** I roll in the powdered sugar twice.