This post may contain Amazon or other affiliate links. As an Amazon Associate I earn from qualifying purchases. Click
here
to read our privacy policy.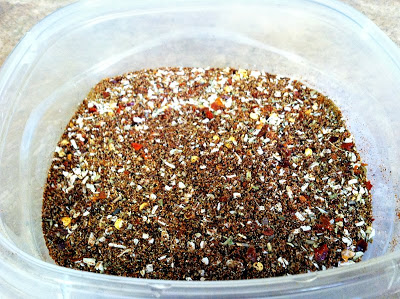 OK, I admit it, I used prepackaged seasonings and spices to simplify life but over the last few years I have stopped for the most part. Learning the right combinations for my favorite packets have not only decreased the sodium intake of my family but also the MSG not to mention the added benefit of it being MORE flavorful when used with my favorite recipes.
The one packet I still used until recently was for tacos. Tacos used to be a weekly meal when the girls were younger and now we probably have them once a month. I wish I would have read the ingredients on the packages of these seasonings long ago.
Now for the real shocker for me! Did you know that they put in Silica in taco seasoning? I am most sure they put it in other packets too but when I read the list of ingredients on my packet of a popular brand, I was shocked at a few things. This is the list:
Maltodextrin, Salt, Chili Pepper, Onion Powder, Spice, Monosodium Glutamate, Corn Starch, Yellow Corn Flour, Partially Hydrogenated Soybean Oil, Silicon Dioxide (Anti-caking agent), Natural Flavor, Ethoxyquin (Preservative).
First thing that stood out to me and made me laugh was, Spice. What?!?! Is this a big secret?

Of course there's that MSG but do you see the silcon dioxide? That's sand, folks. Yep. Have you purchased a pair of shoes or handbag recently? Did you happen to notice the little white packets marked "Silica Gel! Do not eat! Throw Away!" ? That little packet is extremely harmful if consumed…actually fatal. This is what is in the packets…It's used in a lot of things as a flow agent and partly because it does a nice job of absorbing a little bit of humidity that would cause clumping in a variety of things.
Ethoxyquin? What the heck is that? Well, let me tell you, according to Wikipedia,
Ethoxyquin is a quinoline-based antioxidant used as a food preservative (E324) and a pesticide (under commercial names such as "Stop-Scald"). It is commonly used as a preservative in pet foods to prevent the rancidification of fats. Ethoxyquin is also commonly used in spices to prevent color loss due to oxidation of the natural carotenoid pigments."
Now – I am definitely not using the packaged seasonings/spices anymore. In fact, the ones I have in my pantry now are history, even though I haven't had the urge to use them in quite some time. I realize that the FDA approves the use of ethoxyquin in regulated doses however, why do you want to ingest this or have your pets ingest it??? I totally understand that the use of ethoxyquin is used differently in foods than it is as a pesticide but still there is a concern.
A couple of years ago I was diagnosed with high blood pressure and since then, I have been trying to rid my, and my family's meals (that I prepare) of the high sodium and to make a conscious effort to eat healthier. It's a struggle but in some ways it's becoming easier. I have learned to shop the "outer perimeter" of the grocery store with ease and if my budget allows it, to buy organic meats and produce.
Now that you know all of this, let's get to the recipe for Homemade Taco Seasoning! Use it as you would the prepacked kind. About 3 tablespoons per 1 pound of ground beef (or turkey) and add 3/4 cup of water.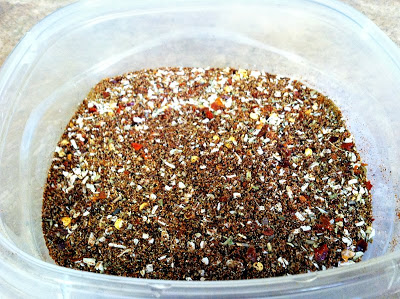 Ingredients
1

tablespoon

chili powder

1/2

teaspoon

garlic powder

1/2

teaspoon

onion powder

or use 1 tablespoon minced onion flakes

1/4

teaspoon

crushed red pepper flakes

1/4

teaspoon

dried oregano

1/2

teaspoon

paprika

1 1/2

teaspoons

ground cumin

1

teaspoon

sea salt

1

teaspoon

black pepper

3/4

cup

water
Instructions
Mix all ingredients together in a bowl.

Use as you typically would a packet of taco seasoning.

About 3 Tbsp per 1lb ground beef (adding more or less, depending on your tastes) to the 3/4 cup water, mix well.

Pour over ground beef and mix. Simmer for about 15 – 20 minutes, stirring occasionally. Serve with your favorite taco shells and toppings.

Note – Multiply the amounts to make a larger batch to have on hand for future uses.