This post may contain Amazon or other affiliate links. As an Amazon Associate I earn from qualifying purchases. Click
here
to read our privacy policy.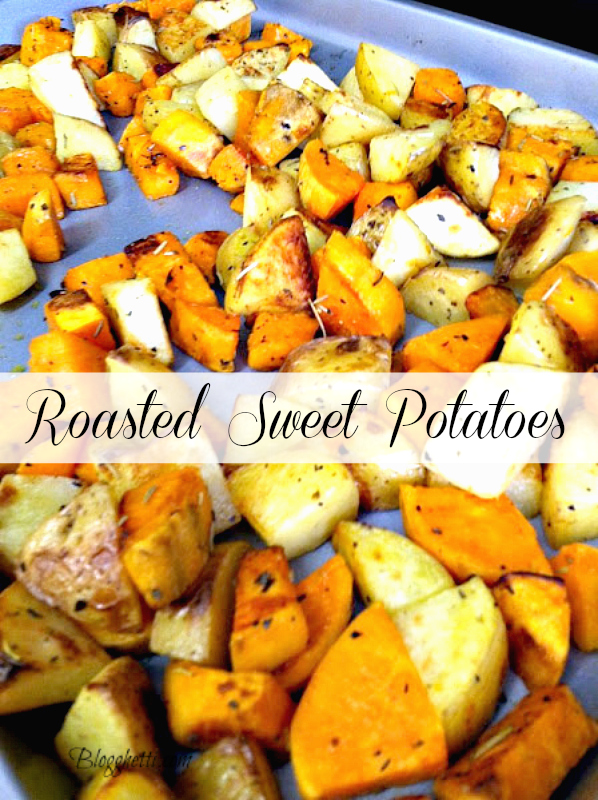 Yes, I've been MIA for a bit but it won't be for much longer. Finals are just about over for me…only 3 more exams and this semester will be behind me. Not a moment too soon either as my brain cells are in desperate need of repair and so is my house. Not to mention the cold I have contracted from the depths of hell or so it seems that's where it came from. I realized last week that no one in my house has been eating very well and while I am really only cooking a few days a week until this semester is finished, I can do better. I need to! So, I went on a mission
at the grocery store and stocked up on nothing but healthy foods, umm…OK I had to get some members of the family their junk food items so that they wouldn't constantly tell me there isn't anything in this house to eat. But for the most part, we've got the farm in the house.
I am not a fan of sweet potatoes, really I am not. I know the nutritional value of them but in all honesty, I have never really had them unless they were from a can or made into a casserole with marshmallows on top. Who can resist something covered in melted marshmallows?!?! The canned variety, that was how my parents made them the few times a year we had them. Granted, my Dad doctored them up well but to me they were still this mushy mess on my plate that I had to eat. It was like the liver and peas all over again for me. Both of those, I can't stand, although I am better about the peas if they are in something with other vegetables. You'll never get me to eat liver again, never. Back the sweet potatoes – I've had them fresh and baked with some butter and cinnamon, while it was tasty I still am not a fan. My Mother-in-law makes an out-of-this-world Yummy Sweet Potato Casserole and I will eat seconds on that one! But if you get right down to it, I like sweet potatoes when they are covered in marshmallows or loaded with a brown sugar-pecan topping and it's not healthy! So I thought why not roast them as I do their relative, the white or red potato!
This was a great idea, people! Do it today! You'll thank me for bringing a healthier sweet potato into your lives, really you will. I'll tell you right now, if you don't already know, sweet potatoes are hard to cut than white ones. Be warned and be safe while cutting them! Now, I had to roast white potatoes along with the sweet potatoes because I have a husband and kids who feel like I do, they prefer not to eat them. Toss them with a bit of olive oil, season them with some salt and pepper and herbs of your choice and roasted them to golden brown perfection. My husband loved them this way but the daughter that was home to eat at the time, declined to even try them….she will one day and love them too. I do.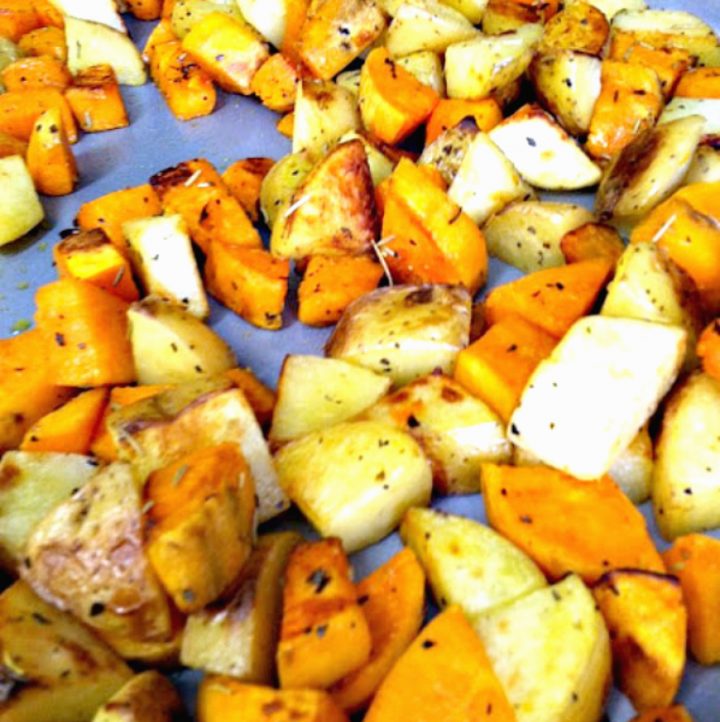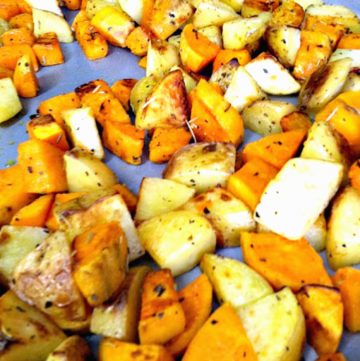 Ingredients
2

sweet potatoes

2 - 3

large white potatoes

2

tbsp

olive oil

salt and pepper

2

tsp

Italian seasoning

really you can use any herbs you like, if I had rosemary on hand, that would have been on here too
Instructions
Preheat oven to 400 degrees.

Wash and peel the potatoes, cut them into about one inch cubes and place in large bowl. I only peeled the sweet potatoes. It's your choice to peel or not the white potatoes.

Drizzle the olive oil over the potatoes

Add the seasonings and toss to coat all the potatoes.

Spread onto a baking sheet, in a single layer and roast in a 400 degree oven for about 30 - 45 minutes.

The time depends on how big your cubes are so adjust time accordingly.

I will sometimes put the broiler on to crisp up the potatoes if they are fork tender before they are browned thoroughly.
Enjoy!