This post may contain Amazon or other affiliate links. As an Amazon Associate I earn from qualifying purchases. Click
here
to read our privacy policy.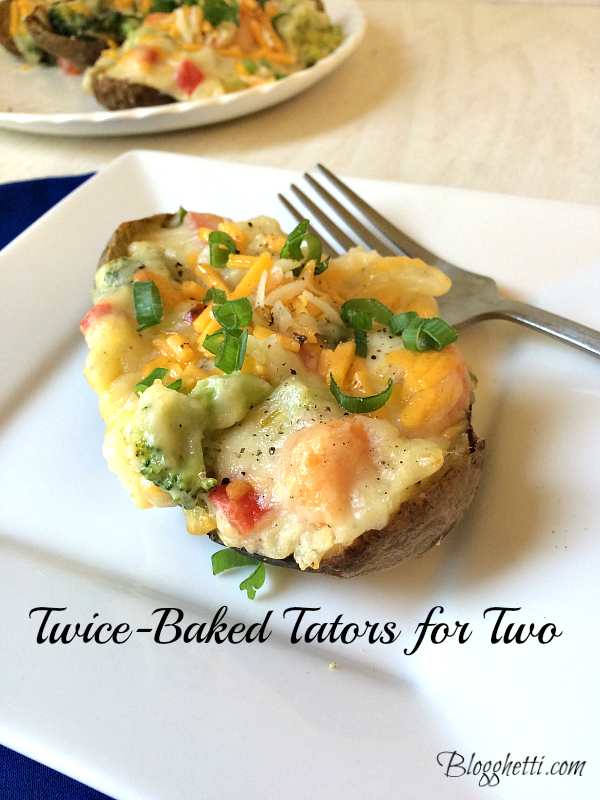 Twice-baked potatoes were always something you had at a fancy dinner party not something you had for a weeknight meal let alone a lunch. Well, now I am all grown up and quite enjoy a twice-baked potato with as a meal. The possibility of what to add to the potatoes is nearly endless but my favorite way to eat them is mixed with tons of vegetables. This makes it a perfect addition to our Meatless Monday meals! While twice-baked potatoes are a bit time-consuming to prepare, the process is simple and the result is delicious.
I love to prepare baked potatoes wrapped in foil and baked on the grill because they take less time to cook than in the oven and you're not heating up the house. However, with this recipe, you want the potato skin to be a sturdy so the best way to do that is in the oven unwrapped. While this recipe is for two, it is so easy to adapt for 4, 6 or more.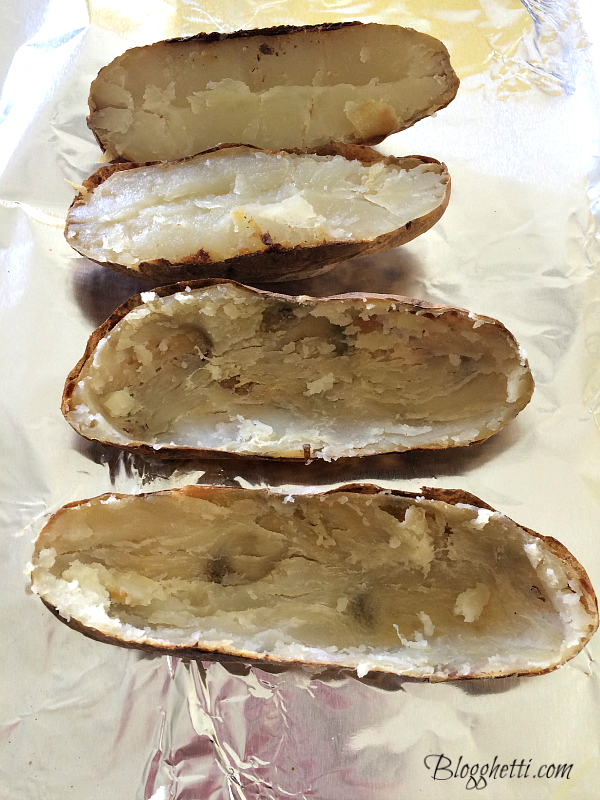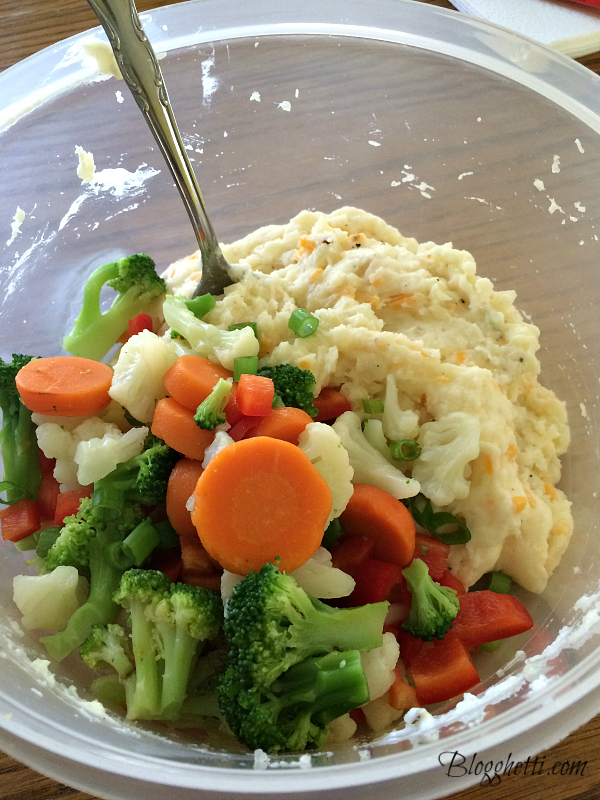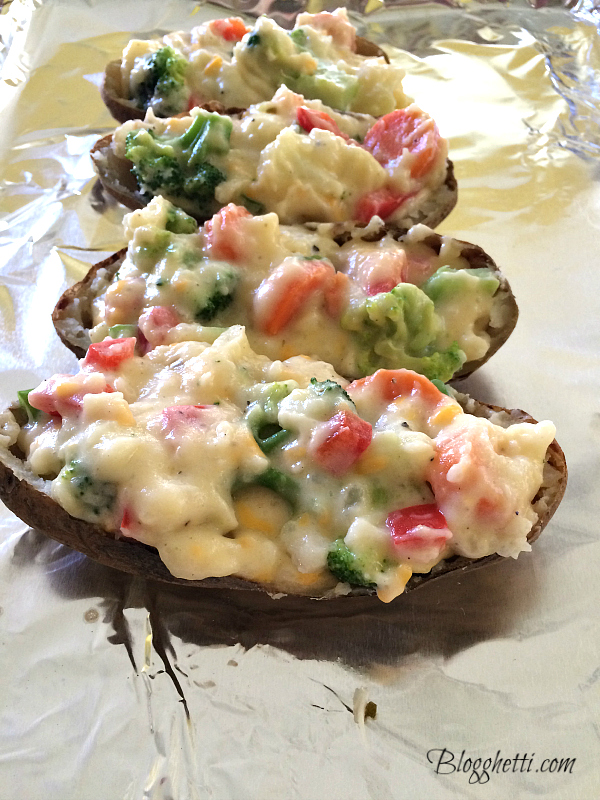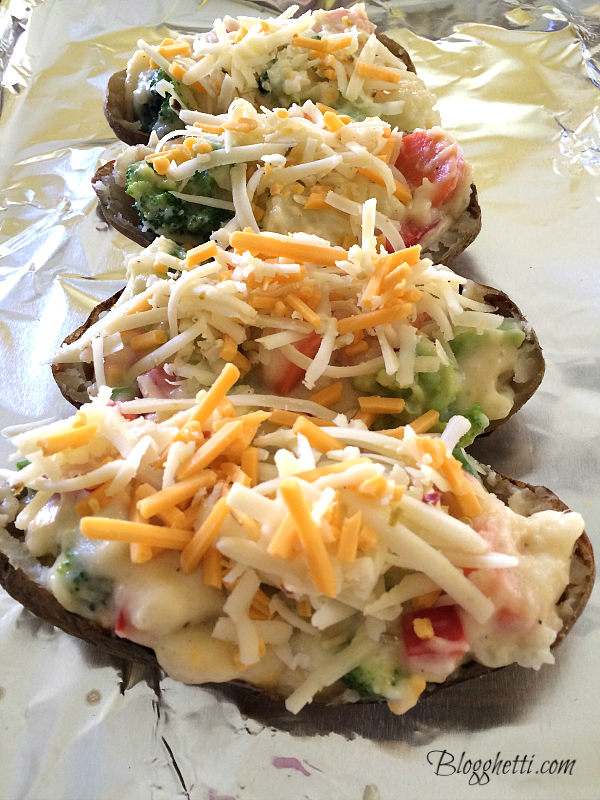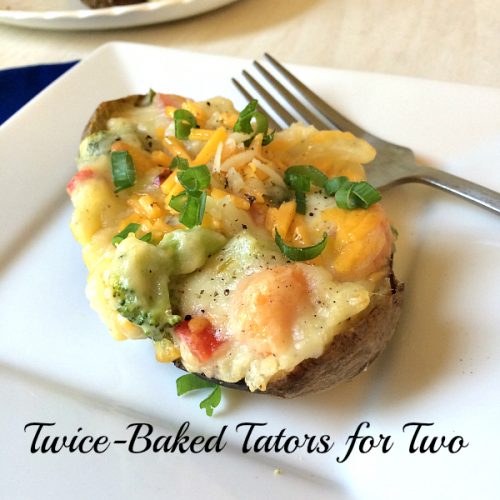 Ingredients
2

baking potatoes

1/4

cup

butter

1/4

cup

sour cream

Dash of garlic powder

1/3

cup

shredded sharp cheddar cheese

1/3

cup

shredded pepper jack cheese

1 1/2

cups

frozen California Vegetable Mix

Broccoli, Cauliflower, and Carrots

1/4

cup

diced red bell pepper

2

green onions

sliced thinly (save some for garnish)

Salt and pepper

to taste

Extra cheese for topping off the potatoes
Instructions
Preheat your oven to 400 degrees. Cover a baking sheet with foil (this makes for easy cleanup).

Scrub and dry the potatoes. Place potatoes on baking sheet and bake for 1 hour to 1 hour 15 minutes. Check at the one hour mark. Be sure the potatoes are done completely before removing from oven.

Reduce oven temperature to 350 degrees.

Once the potatoes are done, let cool enough to handle – about 5 minutes. Cut the potatoes in half. I fold a paper towel and use it like a potholder with the potato while I scoop out the insides with a spoon. You want to get most of the potato out leaving just a little on the skins. Careful not to tear the skins. Place potato insides in a bowl.

While the potatoes are cooling off for that 5 minutes, place your vegetables (and the diced red bell peppers) in small microwaveable bowl. Add a splash of water and steam in microwave for about 3-4 minutes until the vegetables are heated through and tender. Remove and set aside.

Mash the potatoes with the dash of garlic powder, butter, sour cream, and both cheeses. Add the vegetables and mix by hand to combine. Add most of the green onion to the mixture, saving some for garnish. Season with salt and pepper to taste. If mixture is too thick, add a splash of milk.

Spoon potato mixture into potato skins. Don't skimp, there will be a little extra filling left. Top each potato with a little bit more cheese.

Bake in a 350 degree oven for 15-20 minutes. Remove from oven and garnish with green onion and serve.
Enjoy!