This post may contain Amazon or other affiliate links. As an Amazon Associate I earn from qualifying purchases. Click
here
to read our privacy policy.
Tonight I had some tomatoes and basil that needed to be used before they went bad so I made my oven fried chicken and then topped it with a tomato and basil salsa. It was a good way to use up the ingredients and the salsa gave it a bit of a zip. The recipe is one from memory and you can adjust to your liking and use the seasonings you enjoy. I generally do not measure when I make this recipe so the measurements aren't exact.
Preheat oven to 400 degrees. Spray baking sheet with non-stick spray.
For the chicken, you will need:
4 boneless, skinless chicken breasts
1 cup flour
1-2 cups Panko bread crumbs
2 egg whites
about a tablespoon of the Italian seasoning and Parsley flakes
1/2 to 1 tsp garlic powder
1/2 tsp kosher salt
1/2 ground pepper
2 – 3 tbsp melted butter
I filleted the chicken breasts so they would be thinner and cook faster. Make yourself an assembly line with plates..one for the flour, one for the bread crumbs and a bowl for the egg whites. Beat the egg whites to combine. Add seasonings to the bread crumbs. Next, dip the chicken in the flour, coating both sides. Then, dip both sides in the egg white and lastly, coat both sides in the bread crumbs. Place on baking sheet. Drizzle the melted butter over the chicken. Bake for about 20 – 30 minutes until tender and no longer pink. I do turn them over halfway through the cooking time.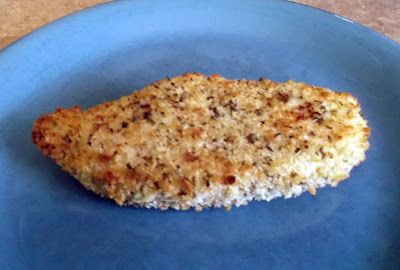 While the chicken is baking, prepare the salsa. You will need:
4 ripe roma tomatoes or 3 small vine-ripe tomatoes, diced.
2 tbsp chopped onion ( I like red onion but use what you have)
1 tsp minced garlic
15 leaves fresh basil, pile leaves, roll then thinly slice — chiffonade
salt and pepper to taste
Mix all ingredients to combine.
When chicken is done, top with salsa and serve.