This post may contain Amazon or other affiliate links. As an Amazon Associate I earn from qualifying purchases. Click
here
to read our privacy policy.
Never been a fan of baked spaghetti but with ravioli, well, that's a whole new world in baked pasta. This can even be made ahead of time and then pop it in the oven when you are ready to, just add extra time for it to be heated through. I used diced fire roasted tomatoes with garlic to give it a bit more flavor but you can certainly use your favorite jarred sauce. Another thing I did was blend together in the blender all the ingredients for the sauce and then simmering it for about 30 – 40 minutes. It's another "make again" meal in this house.
Ingredients:
1 tbsp olive oil
1 1/2 tbsp minced garlic
1 tsp thyme
1/2 tsp oregano
1 can (14.5 oz) can stewed or diced tomatoes
1 can (14.5 oz) can diced fire-roasted tomatoes with garlic
salt and pepper, to taste
2 packages of frozen cheese ravioli
1/2 cup Parmesan Cheese
1 cup Shredded Mozzarella
Directions:
Preheat your oven to 425 degrees.
Heat olive oil in a large sauce pan over medium heat.
Add minced garlic and saute with salt and pepper for about 1 minute. Pour tomatoes, thyme, oregano and sauteed garlic into a blender (may have to do this in batches, do not fill blender to the top). Blend till smooth.
Pour sauce back into sauce pan and bring sauce to a boil and reduce heat and simmer about 30-40 minutes.
Cook ravioli in a large pot of boiling water, until they float to the top (pasta does not need to be completely cooked because it will continue to cook in the oven).
When it's done, drain water from pasta. Toss pasta and sauce in a large bowl. Pour pasta into a 9×13 pan. Top pasta with Parmesan cheese, then mozzarella cheese.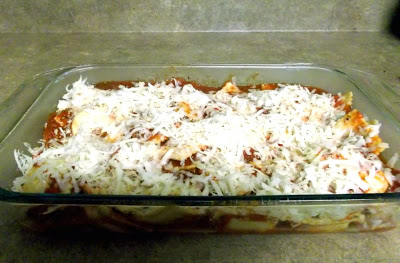 Bake for 20 minutes, until pasta is golden.