This post may contain Amazon or other affiliate links. As an Amazon Associate I earn from qualifying purchases. Click
here
to read our privacy policy.
Making cakes from scratch isn't my thing, well, not that often anyway. Give me a mix from a box to whip up in minutes and frost for a quick dessert or to fill the sweet tooth. There are sites upon sites with recipes and ideas for making (creating) delicious and easy desserts all starting with a cake mix. Some only need but a few ingredients, like the Three Ingredient Cobbler.
To make this simple yet yummy cake, all you do is make the cake and top it with 4 ingredients and bake. That's it. Of course, you can make a sweet glaze to drizzle over it with some powdered sugar and milk – which I meant to do but forgot!
Ingredients:
1 box Betty Crocker French Vanilla cake mix
For the topping:
1/2 cup brown sugar
1 teaspoon cinnamon
1/4 cup melted butter
1 cup chopped walnuts
Instructions:
Preheat Oven at 350
Mix the cake as directed on the box and pour into a 13×9 greased pan (bottom only).
In a small bowl combine the brown sugar,cinnamon, and walnuts.
Sprinkle evenly over cake batter.
Drizzle melted butter over top.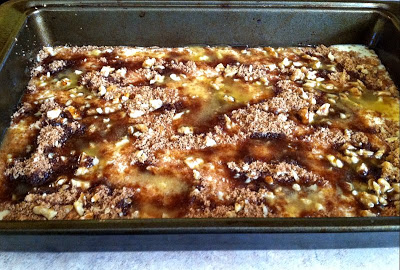 Bake according to directions on box, about 28 minutes.