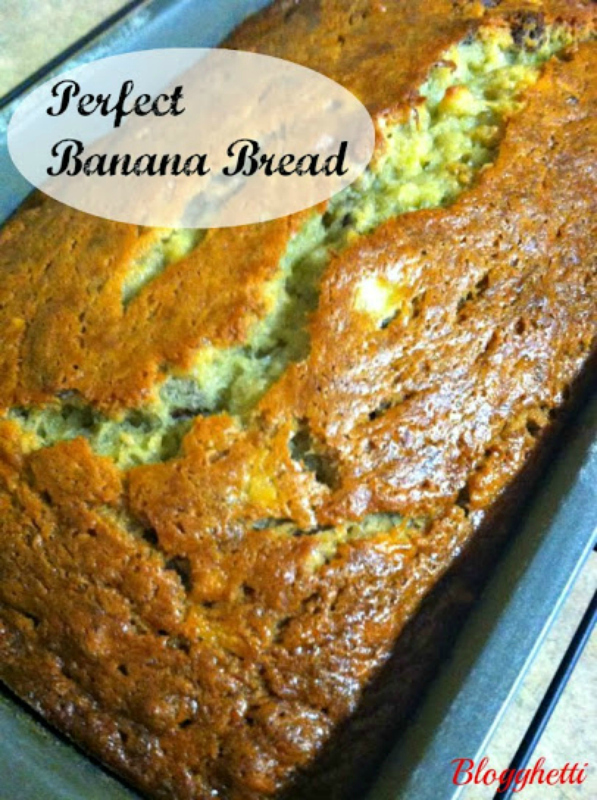 I have searched for a banana bread recipe that was perfect.  After trying several, I have found one that is near about perfect when I added a few things from other recipes I have experimented with.  This  bread stays moist days after making it.  It is a small piece of heaven. It is my most requested baked good from family and friends when asked to make something for an event or because they are craving the bread.
Perfect Banana Bread
Ingredients
1 stick butter, at room temperature
1½ cups all-purpose flour
1 teaspoon baking soda
1 teaspoon baking powder
1 teaspoon salt
3 large very ripe bananas
1 cup granulated sugar
2 large eggs
½ cup sour cream (or light sour cream)
1 teaspoon vanilla extract
¾ cup chopped pecans (or walnuts)
Instructions
Preheat the oven to 350 degrees and put a rack on the middle shelf. Butter and flour a 9 by 5 by 3-inch loaf pan.
In a large bowl, whisk together the flour, baking soda, baking powder and salt.
In a separate small bowl, mash the bananas with a fork or wooden spoon, leaving a bit of texture.
In another large bowl, use a hand electric mixer or stand mixer to cream the ½ cup of butter and sugar together until light and fluffy.
Add the eggs, 1 at a time. Stir in the mashed bananas, sour cream and vanilla and beat until just combined.
Add the dry ingredients and gently stir in pecans.
Pour the batter into the prepared pan.
Bake for 1 hour and 10 minutes. Let cool for 5 minutes in the pan then turn out onto a wire rack to finish cooling.
Enjoy!