This post may contain Amazon or other affiliate links. As an Amazon Associate I earn from qualifying purchases. Click
here
to read our privacy policy.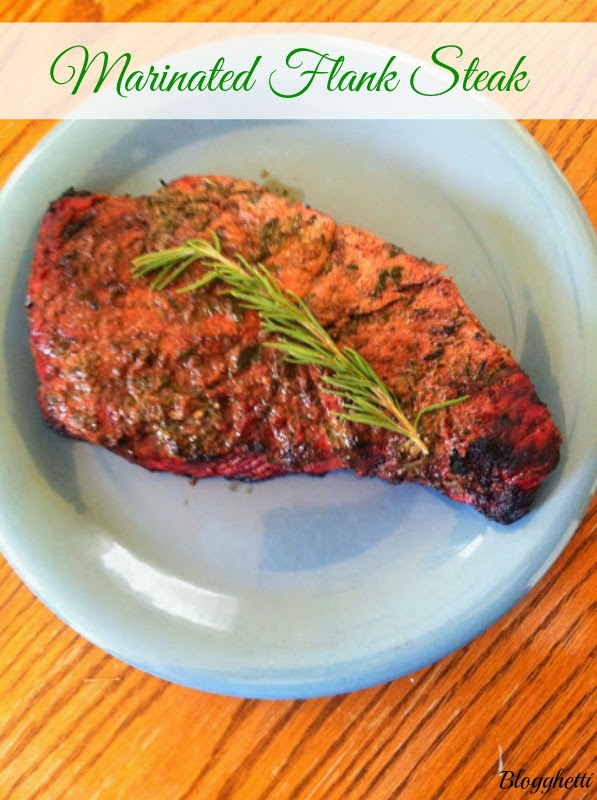 This is a favorite in our house. I use the marinade for chicken as well. I change it up with the herbs with what I have on hand and have used dried when I didn't have the fresh herbs. The longer you marinade the meat, the more tender and flavorful it is. It is also wonderful served over a fresh veggie salad with one of the salad dressings I have posted or your favorite one.
Ingredients:
1 1/2 to 2 pounds beef flank steak (or London Broil)
Marinade:
1/2 – 1 cup fresh basil (depends on your tastes)
1/4 cup olive oil
3 tbsp fresh rosemary leaves
3 tbsp fresh thyme leaves
3 tbsp fresh oregano
2 tbsp finely shredded lemon peel (optional)
10 cloves garlic, minced (yes this is a lot, cut back if you aren't a fan)
1/2 to 1 tsp crushed red pepper (again depends on your taste)
1/2 tsp kosher salt
1/4 to 1/2 tsp freshly ground black pepper
Instructions:

Trim fat from meat. Score both sides in a diamond pattern by making shallow cuts at 1 inch intervals; set aside. In a small bowl, or food processor combine all ingredients and blend until combined. You want a thin paste, not watery.
Spoon herb mixture over both sides of the meat. Place meat in a shallow dish. Cover and marinade in the refrigerator for 8 to 24 hours.
Grill or broil to your desired doneness. Transfer to cutting board and let stand for a few minutes. To serve, slice thinly across the grain.
Enjoy!