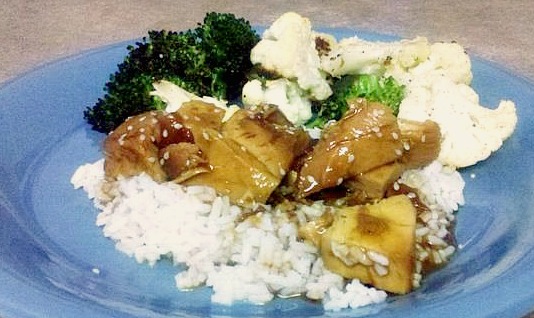 Need a quick, simple, and delicious slow cooker meal? This Asian-inspired Honey Sesame Chicken recipe fits the bill! The chicken is simmered in a sweet, tangy, garlic sauce and is moist and tender.
I don't use my crockpot near enough and when I do, it's usually for the same old recipes.  I had everything on hand for this sesame chicken recipe that a friend shared with me.  I had it shoved into a cookbook and apparently never made it so it was time to rectify that mistake!  Add some rice and roasted cauliflower and broccoli and it was a meal!  
Slow Cooker Honey Sesame Chicken
Ingredients
4 boneless, skinless chicken breasts
1 cup honey
½ cup soy sauce
½ cup diced onion
¼ cup ketchup
2 tsbp canola oil
2 - 3 cloves garlic, minced
¼ tsp red pepper flakes
salt and pepper
4 tsp cornstarch
6 tbsp water
Sesame seeds
Instructions
Season both sides of chicken with lightly with salt and pepper, place into crock pot.
In a small bowl, combine honey, soy sauce, onion, ketchup, oil, garlic and pepper flakes. Pour over chicken.
Cook on low for 3-4 hours or on high 1½ – 2½ hours, or just until chicken is cooked through.
Remove chicken from crock pot to a cutting board.
In a small bowl, dissolve 4 teaspoons of cornstarch in 6 tablespoons of water and pour into crock pot. Stir to combine with sauce. This will thicken the sauce.
Replace lid and cook sauce on high for ten more minutes or until slightly thickened.
Meanwhile, cut chicken into bite size pieces, then return to crockpot and toss with sauce. Let heat back up for about 15 minutes before serving.
Sprinkle with sesame seeds and serve over rice or noodles.
Enjoy!