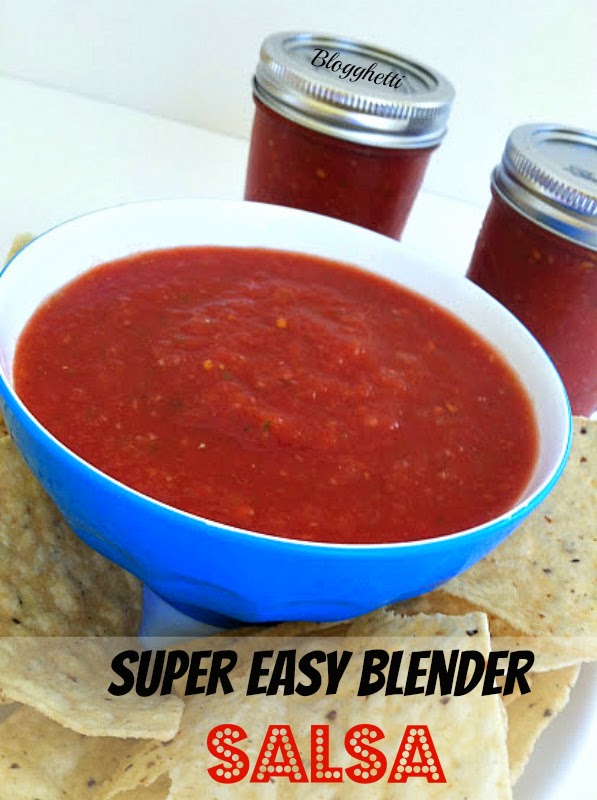 Homemade salsa!  It's so easy that it's ready to serve in 5 minutes in the blender or food processor. Yes, 5 minutes! When my youngest comes home from college her first food request is for tacos. There's nothing fancy about them or how I make them but she loves them and I am happy to oblige her.  They're simple to make and I make a double batch of the taco meat to use for those midnight plates of nachos she likes to eat. This salsa goes great with both the tacos and the nachos or any recipe that calls for salsa.
Most of the items you will already have in your pantry so it's just matter of putting the rest on your shopping list.  You can't go wrong with this one, make it your own by following the basic recipe.  Make it as chunky and hot as you want. You can't get easier than this!
Super Easy Blender Salsa
Ingredients
1- 14 oz can diced tomatoes
1- 10 oz can original Rotel
½ small onion, roughly chopped
1 clove garlic, peeled and smashed
½-1 jalapeno, seeded or not (depends on how spicy you like it)
1 teaspoon honey
½ teaspoon salt
¼ teaspoon ground cumin
small to medium size handful of cilantro, washed (optional)
juice of 1 lime
Instructions
Put all the ingredients in the base of a food processor or good blender and pulse to combine for 30 seconds or so until all the ingredients are finely chopped and salsa is desired consistency.
Taste for seasoning and adjust to taste. Serve with chips or over tacos. Can use in any recipe calling for salsa also.