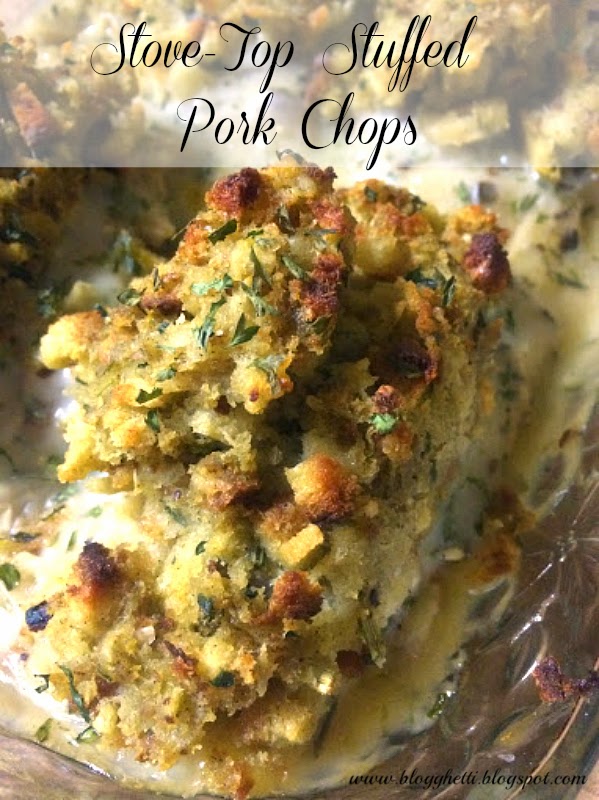 I've said it before on here, Pork is probably my family's least favorite meat but with prices as they are, it's also the least expensive lately.  If you cook pork too long it's drier than ever, if you don't season it well it's as bland as ever, and if you have a family of naysayers you have to be creative.  I will admit, it took a long time for me to be able to understand pork needs extra attention when cooking it.  I am to blame for my family's dislike of the other white meat.
Now, I can honestly say I have seen the light and am on the path to correcting their dislike!  This recipe is one that has pork moving up a bit on the ladder of meats to serve my family for dinner.  Best part of this is that you can use leftover stuffing or the store-bought kind PLUS if you prefer to NOT use the "canned creamed soups" you can make the condensed creamed soup from scratch.
The pork chops come out of the oven "cut with a fork" tender and so flavorful from the thyme and the stuffing.  Add a vegetable or salad and you've got dinner.
Stove-Top Stuffed Pork Chops
Ingredients
2½ - 3 cups stuffing (homemade or store bought)
2 tbsp Oil
4 boneless pork chops, trimmed of visible fat
1¼ cups of  DIY condensed cream of mushroom soup (recipe is for cream of chicken but you can substitute mushrooms easily – or use 1 can of cream of mushroom soup)
2 garlic cloves, minced
2 tsp fresh thyme
Pepper
1 tbsp chopped parsley
Instructions
Prepare stuffing according to directions.  Spray a baking dish with nonstick spray.
Preheat oven to 350 degrees.
Season pork chops with the pepper.  Heat oil in frying pan and when hot, add the pork chops and brown on both sides for about for 4 minutes per side.
Place pork chops into prepared baking dish.
If you are using the homemade condensed soup, you will only need half of the recipe (1¼ cups).  If you are using the canned condensed soup, you will use the entire can.  Mix soup with thyme and garlic then spoon soup evenly over the pork chops.
Top with stuffing and sprinkle the parsley over the stuffing. (You will have a bit of the stuffing leftover – I used about ¾ - 1 cup pork chop).
Bake uncovered for about 30 - 45 minutes in oven or until pork chops are cooked through.
I like to turn on the broiler the last couple of minutes to toast the top of the stuffing. 
Enjoy!