This post may contain Amazon or other affiliate links. As an Amazon Associate I earn from qualifying purchases. Click
here
to read our privacy policy.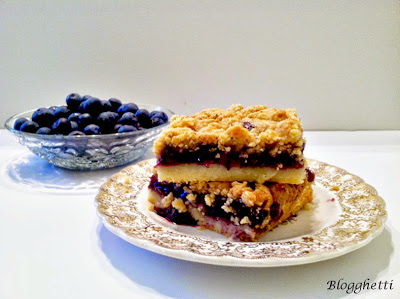 Blueberries are one of my favorite fruits and when they are in season I tend to just add a bit of Splenda and just eat them as is. Always looking for new ways to use them in desserts or just blend them in with other fruits in smoothies. The little blue
fruits are chalk full of everything healthy and good. I came across this Blueberry Crumble Bars on Pinterest and it peaked my interest. The link lead me to a great site packed full of recipes, Rock Recipes. Make a double batch and freeze one!
For the shortbread base, combine:
3/4 cup butter
1/3 cup sugar
1 1/2 cups flour
Press into the bottom of a greased and parchment paper lined 9×9 inch baking pan. Bake for 15 minutes. Remove from oven and add the blueberry compote and crumble topping.
Blueberry Compote Filling
2 cups blueberries (fresh or frozen)
1/2 cup sugar
¼ cup water
1 rounded tablespoons corn starch
Bring the berries and sugar to a gentle boil. Mix the corn starch with the water and add slowly to the boiling berry mixture stirring constantly. Boil gently for 1 additional minutes stirring constantly.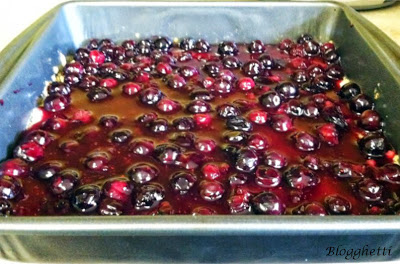 Graham Crumble Topping
In a large bowl toss together:
1 tsp baking powder
3/4 cups graham cracker crumbs
2/3 cups flour
1/3 cup brown sugar
Using your hands, rub thoroughly through the dry ingredients:
1/2 cups butter, cut in small cubes
Press the crumble mixture together in handfuls so that it holds together and break off chunks of crumble all over the top of the prepared blueberry compote filling.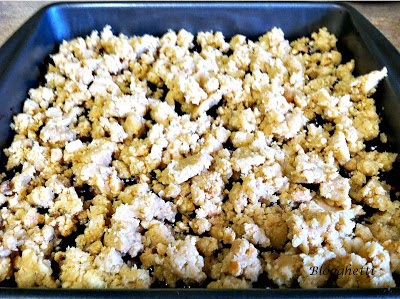 Press down very lightly and bake for about 20-25 minutes at 350 degrees or until the top is golden brown. Cool completely in the pan before cutting into squares or bars. This is a freezer friendly cookie bar recipe too.
Enjoy!