This post may contain Amazon or other affiliate links. As an Amazon Associate I earn from qualifying purchases. Click
here
to read our privacy policy.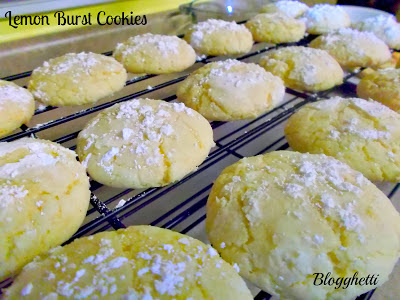 It's true what they say about your taste buds changing over the years. I was never a fan of mushrooms in any form, in any food however, I will now eat them in certain foods with ease. Still can't have them raw or in mass amounts but they aren't so bad in small doses. Sweet potatoes – hated them growing up – with a passion close to the hatred of peas and liver. I really do like a baked sweet potato now and of course my Mother-in-law's awesome Yummy Sweet Potato Casserole. Roasted Sweet Potatoes have become my new favorite way to eat them as well. Let's move on to lemons. Foods involving lemons or their juices never seemed to taste good to me so I just didn't eat them. Oh how I was wrong! The zest added to dishes, the juice added to some meats dishes, and of course we won't mention what it does to baked goods! Wait, yes we will. It adds a kick to the sweetness of the cake, pie, or in this case, cookies. Even though my taste buds have changed over the years, I will never ever like liver or peas. Never, ever.
On to the cookie recipe! I make a Lemon Bread that is so yummy, so easy to make but it's very time-consuming to make. It's requested often and I don't always comply with that request as time is valuable when you are studying 6 hours a day. This Lemon Burst Cookie, from Crunchy Creamy Sweet's site is a very close relative of my lemon bread but without all the time needed to make it. The cookie not only uses a bit of the zest from a lemon but lemon extract. Now, as she mentions in the recipe, you can use vanilla extract and a couple of drops of the lemon but you won't get that lemony punch as you would if you omit the vanilla and use the lemon extract. I choose wisely when I used the lemon extract. Although, as you are pouring the extract the aroma hits your nose and you're like – "um, this could be a mistake." It's not. Trust me, it's not. Do it, use the lemon extract. You won't be sorry. Oh, and double the recipe, you'll thank me later. I promise.
Ingredients:
1 3/4 c all-purpose flour
1 1/2 tsp baking powder
1 tsp lemon zest
8 Tbsp (1 stick) unsalted butter, room temperature
1 c granulated sugar
2 large eggs, room temperature
3/4 tsp vanilla extract (see note)
2 drops lemon extract
1/2 c powdered sugar (for rolling)
Instructions:
For the full recipe go here.
*The only things I do different (other than using lemon extract in place of the vanilla) is to add two tablespoons of additional flour to the batter and slightly flatten the dough balls on the baking sheet. They still puff up just fine.
Enjoy!