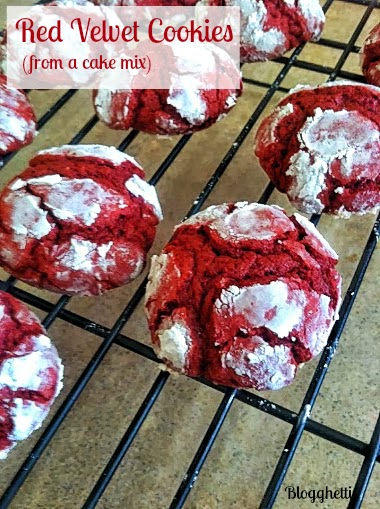 In the last few years I have discovered a whole new world using cake mixes to make cookies.  My first thought after I got over the ease of using a cake mix was "why didn't I find this out years ago when my girls were young?!"  Think about it, a cake mix has all of the dry ingredients in it as you would use for making cookies from scratch.  Just add the eggs and liquid (in lesser amounts) and you've got a cookie dough batter.  I love making cookies from scratch but sometimes you want cookies just a bit faster!
I found a red velvet cake mix in the pantry and thought it would be nice to make as a pre-Valentine's Day treat.  During the Christmas holidays I made a
Lemon Burst Cookie
 (from scratch) that I rolled the cookie dough balls into powdered sugar before baking and did the same with these red velvet ones.  They turned out wonderfully delicious.
Easy Red Velvet Cookies
Ingredients
1 box Duncan Hines Red Velvet cake mix
6 tbsp butter, melted OR 6 tbsp oil
2 eggs
powdered sugar
Instructions
Preheat oven to 375 degrees. Spray a cookie sheet with nonstick spray.
Pour cake mix into a medium bowl, add eggs and melted butter - mix till combined. I used a wooden spoon but you can use a hand mixer as well.
Roll the dough into 1 inch balls and roll each ball into the powdered sugar. Place onto cookie sheet and bake about 11 - 12 minutes. Cool 2 minutes on cookie sheet and then remove to wire cooling rack.
Note: the cookies will spread out while baking so need to flatten the dough balls.