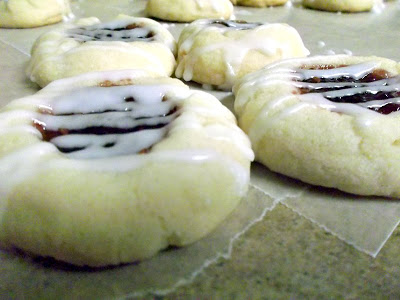 It's been a long time since I made or eaten a jam-filled cookie and when I saw this cookie on the Taste of Home website I suddenly craved them. The almond extract was perfect but if you don't have it, vanilla would be just as tasty. This would make a great tray of cookies to take to a holiday gathering. Of course, you can fill the center with any kind of jam that you prefer.

It's an easy and quick recipe to make and be sure to put the glaze on the cookies, it not only adds flavor, but makes the cookies look very festive and elegant.
Ingredients:

1 cup butter, softened
2/3 cup sugar
1/2 teaspoon almond extract
2 cups all-purpose flour
1/3 to 1/2 cup seedless raspberry jam
GLAZE:
1 cup confectioners' sugar
1/2 teaspoon almond extract
2 to 3 teaspoons water

In a large bowl, cream butter and sugar until light and fluffy.
Beat in extract; gradually add flour until dough forms a ball.
Cover and refrigerate for 1 hour or until dough is easy to handle.

Roll into 1-in. balls.
Place 1 in. apart on ungreased baking sheets. Using your thumb, make an indentation in the center. Fill with jam.
Bake at 350° for 14-18 minutes or until edges are lightly browned.
Remove to wire racks to cool.
Spoon additional jam into cookies if desired. I didn't feel the need as I did sort of put more jam in the cookie than needed and it worked out just fine.
Combine confectioners' sugar, extract and enough water to achieve drizzling consistency; drizzle over cookies. Yield: about 3-1/2 dozen.