This post may contain Amazon or other affiliate links. As an Amazon Associate I earn from qualifying purchases. Click
here
to read our privacy policy.
Two ingredients and fresh fruit is all it takes to make these delicious Strawberry and Blueberry Lemon Bars. Perfect for your patriotic dessert table.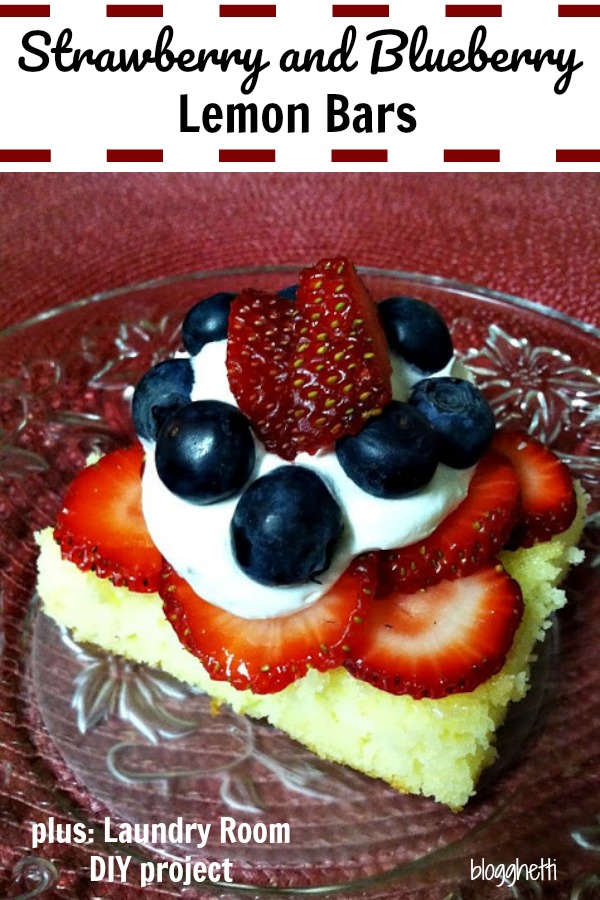 What have I been doing since my current semester ended? Besides catching up on some recreational reading, viewing the many shows that I had to DVR because homework was more important, and spring cleaning the house, I have been tackling a couple of home improvement projects. They aren't major projects but some simple things to keep order in the house and in doing so, my life. Oh, and I have been actually cooking more again too as you can tell by the posts, they aren't spread out over weeks anymore.
I thought I would show off a couple of things we did to our laundry room and also a new recipe as well in this post. First, the recipe – yesterday was Memorial Day and I wanted to make a red, white and blue dessert to go with our dinner. I remember reading somewhere online, I think it was the Betty Crocker site but since then I've seen this recipe many places, of a two ingredient lemon bar/cake. TWO ingredients!! Now we're talking! So armed with the TWO ingredients, plus strawberries, blueberries and cool whip I made this super simple and super delicious dessert. Oh and if you use fat-free cool whip, this simple recipe is only a little over 200 calories per serving and about 1 gram of fat! Nearly guilt free!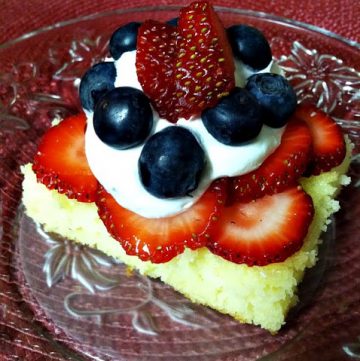 Strawberry and Blueberry Lemon Bars (and a DIY Pinterest project)
Two ingredients and fresh fruit is all it takes to make these delicious Strawberry and Blueberry Lemon Bars. Perfect for your patriotic dessert table.
Print
Pin
Rate
Ingredients
1

box of Betty Crocker Angel Food cake mix

Pillsbury makes one too

1

can of Comstock Lemon Creme Pie Filling

Make sure it's Lemon Creme

Strawberries

sliced

Blueberries

Whipped Cream
Instructions
Preheat oven to 350 degrees. Grease a 9 x 13 baking dish.

Mix cake mix and pie filling together until well blended.

Poor into a greased 9x13 pan.

Bake for 20 minutes. Allow to cool completely. Cut cake into 12 squares.

Top each piece with fresh strawberries and blueberries and whipped cream.
Now for the Pinterest project –
When I first mentioned to my wonderful husband that I wanted to spruce up the laundry room, he was very confused. His thinking was and still is, "it's a room where you wash dirty clothes, you aren't in there all day" – so why would I want to make it pretty. Well, I am the one who is in there, washing those dirty clothes and I'd like it to be a useful room and if it's a cheery place to be, the more content I will be to get that boring chore done. There was a shelf in there that was above the washer/dryer and it was pretty much useless to me so I wanted to replace that with a much lower shelf that would be useful.
I also saw this really great idea for a drying rack that was mounted to the wall on Pinterest. It seemed easy to make and would be perfect for my laundry room! Showed it to my husband who said we could build it. Translation – he liked it. You can see the plans for it at this great site Centsational Girl. Here is a picture of what mine looks like and the shelf over the washer/dryer. I still have a few more things I need to do in the room, hang a few pictures and a curtain that goes with the room now but it's coming along and laundry is much nicer to do!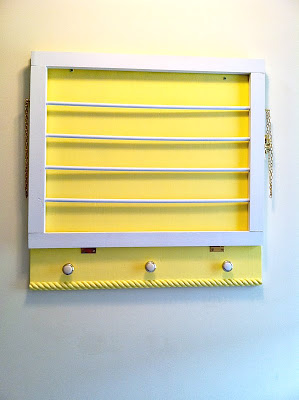 Excuse the lighting in the room, the sun was coming in through the window.
The yellow paint is that bright though (same as my kitchen!)
The original plan was to use a hinged arm bracket on the side
but we couldn't find one that worked the way we needed it to.
The chain and eye hooks worked just as well!
The shelf is useful now compared to the ugly wire one that was hanging
where the "laundry sign" is now. The sign was also a Pinterest project from awhile back.
The laundry soap you see is my DIY Soap and you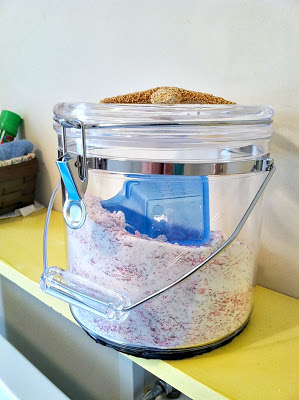 Enjoy!