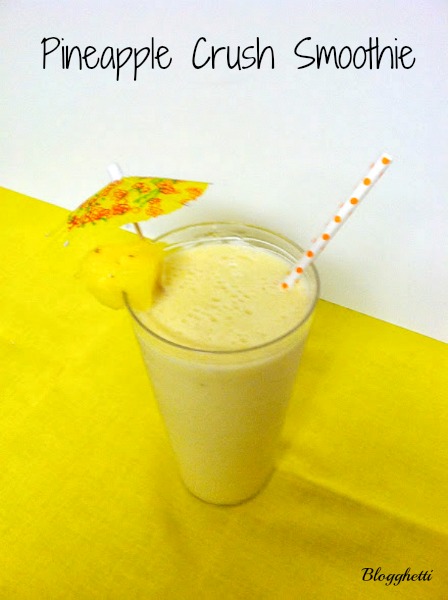 It's a rainy and dreary today and I need a pick me up and this Pineapple Crush Smoothie is perfect.  I bought some fresh pineapple this week at the grocery store because it was so fresh looking and thought it would be perfect in a morning smoothie.  I get tired of drinking plain ol' orange juice in the morning to get my potassium and pineapple added to the OJ would be a nice change.  Not to mention, it would satisfy my sweet tooth craving!
Did you know that pineapple is so healthy for you? It's filled with so much goodness in addition to the great taste. Pineapple is low-fat, is rich in fiber, and is packed with vitamins and minerals such as vitamin A, vitamin C, calcium, phosphorus, and potassium. Pineapple also contains manganese which helps build bones; and it has bromelain that gives the fruit an anti-inflammatory benefit. It can fight infections and kills bacteria.  Something else I recently learned about the fruit is that the juice can suppress coughs five times more effectively than cough syrup. For more information on this amazing fruit and its benefits check this article out on PreventDisease.com. Now that you know all of that, let's get on with the recipe.
Pineapple Crush Smoothie
Ingredients
½ cup lowfat vanilla (or plain) yogurt
1 cup orange juice
1 cup fresh pineapple, cut into chunks
1 banana, cut into chunks
1 cup of ice
Instructions
Combine all ingredients into blender and blend till smooth.  Serve!