This post may contain Amazon or other affiliate links. As an Amazon Associate I earn from qualifying purchases. Click
here
to read our privacy policy.
Simple and delicious Honey Garlic Chicken that is baked, not fried and coated with a sweet, spicy, and garlicky sauce. Perfect for any night of the week.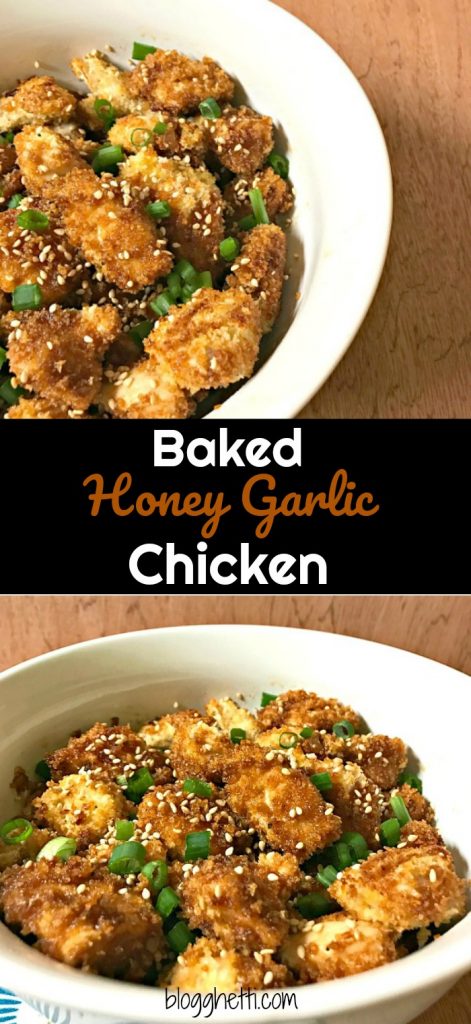 Don't say I didn't warn you, but this Baked Honey Garlic Chicken recipe is addicting. We've been known to have it twice in a week! The sauce that coats the Panko crusted baked chicken nuggets is sweet, spicy, and garlicky – and addicting. I think the fact this you can bake this chicken and it comes out as if you fried it, it the second best reason to make this recipe. I hate frying, anything. It smells up the house for hours and no matter how much you thought you cleaned all of the splatters up, you'll find them for days. I rarely fry anything. Even bacon (gasp!) has a very rare appearance for those reasons above.
So when I ran across this recipe in the "fried" format, I immediately said no. Nope. Not happening. But I kept thinking about it and said, "I need this chicken in my life" – I knew I needed to figure a way to get that same crispy texture and taste but from baking.
I love using Panko bread crumbs because they crisp up perfectly. I use them whenever breadcrumbs are called for now. I've even created a gluten-free version with Italian seasonings from brown rice cereal that is super delicious.
Here's my tip for this recipe: I like to buy the chicken tender packs when they are on sale as they cook up faster than a whole chicken breast. They are perfect for this recipe, too. Simply cut in each one into the one-inch pieces or if you prefer you can just leave them uncut and use them in the recipe as is. Of course, a whole chicken breast is just as good to use as well.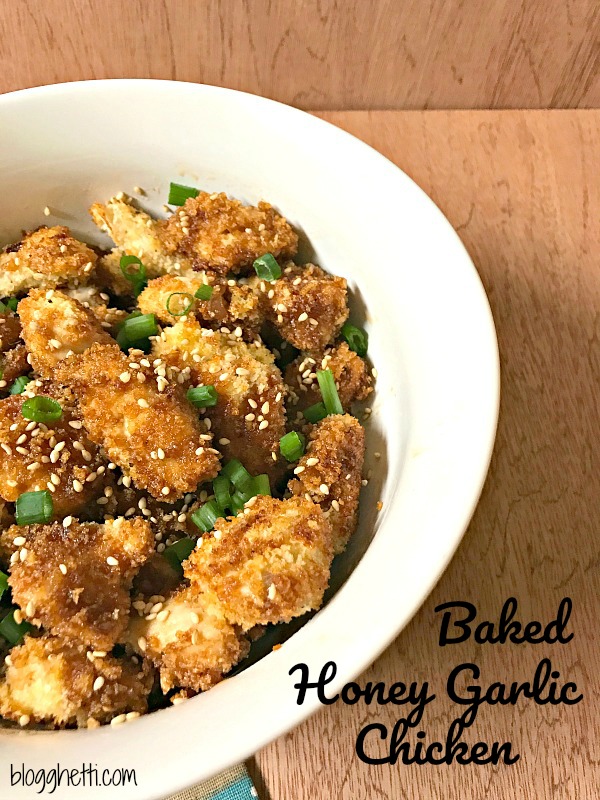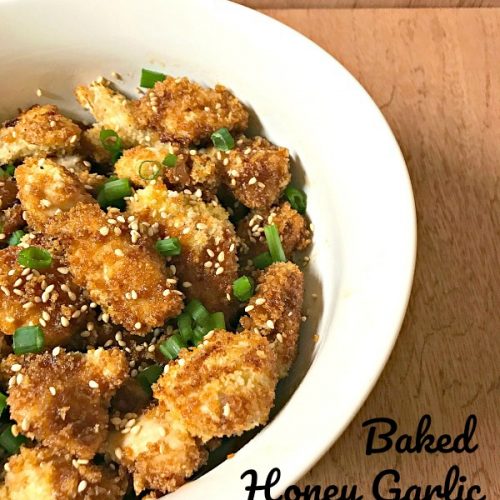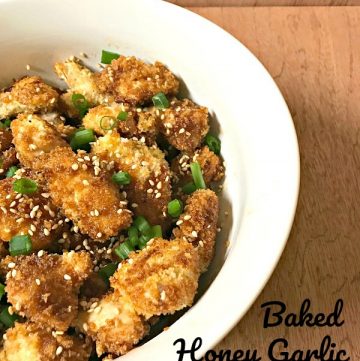 Baked Honey Garlic Chicken
Simple and delicious Honey Garlic Chicken that is baked, not fried and coated with a sweet, sticky, and garlicky sauce. Perfect for any night of the week.
Print
Pin
Rate
Ingredients
3

chicken breasts boneless and skinless

cut into 1 inch pieces OR one 1 1/2 lbs of chicken tenderloins

2

eggs

beaten

1 1/2 - 2

cups

Panko breadcrumbs
For Honey Garlic Sauce:
1/4

cup

honey

1/4

cup

soy sauce

low sodium

3 - 4

cloves

garlic

minced

1 - 2

tbsp

Sriracha sauce

add more if you wish

salt and pepper

to taste




sesame seeds

optional for garnish

fresh chopped parsley

optional for garnish
Instructions
Preheat oven to 375 degrees. Line a baking sheet with parchment paper or spray with non-stick spray.

Make your breading station by having two shallow bowls ready. One for the Panko breadcrumbs and the other for the eggs.

Season beaten eggs with salt and pepper.

Add chicken to the eggs and toss to make sure each piece is fully coated in the egg mixture.

Then coat each piece of chicken with breadcrumbs and place on prepared baking sheet.

Bake for about 20 minutes or until chicken is cooked through and slightly golden brown.

While the chicken is cooking, add all the sauce ingredients to a small sauce pan.

Bring to a boil over medium heat, then turn down the heat and cook for a couple 5 more minutes stirring occasionally.

Once the chicken is cooked through, place in a large bowl and pour some of the sauce over chicken. Toss with a spoon so that the chicken pieces are fully coated with the sauce.

If there's left over sauce, use for dipping.

Garnish with sesame seeds and parsley, if desired.

Serve with vegetables or over rice
Enjoy!