This post may contain Amazon or other affiliate links. As an Amazon Associate I earn from qualifying purchases. Click
here
to read our privacy policy.
When you send your children off to college you hope they succeed in more ways than just partying till morning. You want them to do well in their classes, live independently, make friends for a lifetime, and maybe even do laundry every so often. The hope is that the life lessons you've taught them go with them to college and come out when needed and this includes some cooking techniques. I know there is a Ramen Noodle cookbook with many ways to cook the noodles but even the avid lover of the classic (cheap) college meal gets boring.
My daughter, Valerie, is in her third year of college and has quite a few meals she cooks on a regular basis as does her wonderful roommates and they have dinner nights together. This meal was made at one of those such dinner nights by one of the roommates, Tempestt, and when my daughter mentioned what was being made, my mind immediately went to the Baked Ziti dish I saw The Pioneer Woman prepare on her show this weekend. I asked if Tempestt was making this same dish and the answer was yes (she saw it on Pinterest) and I quickly asked them to take pictures so I could blog it. I think they had fun making the meal and taking the pictures too and from what I heard the meal was delicious! I can't wait to try it myself!
Ingredients:
2 Tablespoons Olive Oil
3 cloves Garlic, Minced
1 whole Large Onion, Diced
1 pound Italian Sausage
1 pound Ground Beef
1 can (28 Ounce Can) Whole Tomatoes, With Juice
2 cans (14.5 Ounce) Tomato Sauce Or Marinara Sauce
2 teaspoons Italian Seasoning
1/2 teaspoon Red Pepper Flakes
Salt And Pepper, to taste
16 ounces, Ziti, Cooked Until Not Quite Al Dente
1 tub (15 Ounce) Whole Milk Ricotta Cheese
1-1/2 pound Mozzarella Cheese, Grated
1/2 cup Grated Parmesan Cheese
1 whole Egg
Tips (from Tempestt):
Instead of using canned whole tomatoes, you can use canned diced tomatoes.
Only use 3/4 of the onion.
Use extra cheese because cheese is wonderful.
Instructions:
Head over to the
Pioneer Woman's site
and get the rest of the instructions there. Before you do that, take a look at the pictures that Valerie and Tempestt took while making this delicious meal.
Simmering the tomato sauce, ground beef, and seasonings
The beautiful Chef – Tempestt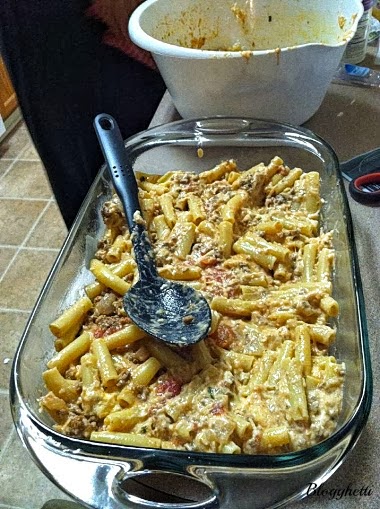 First layer – Half of the pasta mixed with the cheese filling and meat sauce
Second layer – meat sauce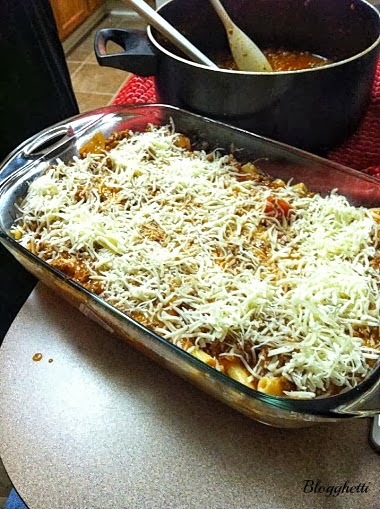 Third layer – Cheese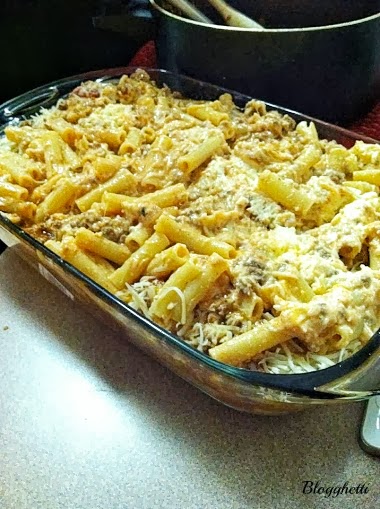 Repeating layers – pasta mixed with cheese filling and meat sauce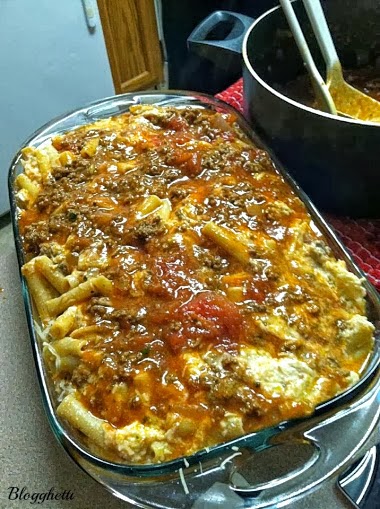 The remaining meat sauce is added.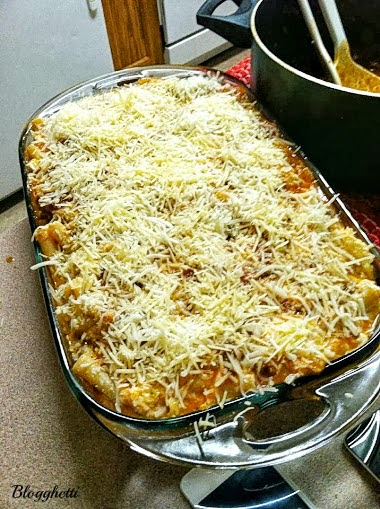 Add the remaining cheese and of course, extra cheese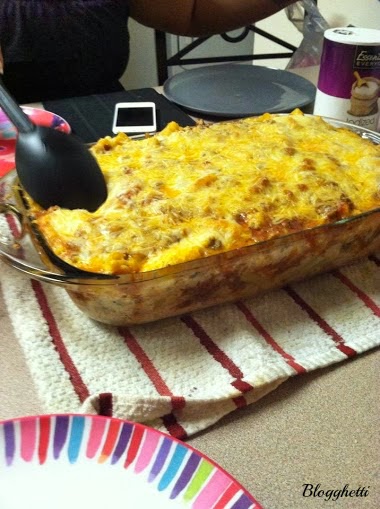 Bake and Enjoy!
Looks like it was a huge hit!