This post may contain Amazon or other affiliate links. As an Amazon Associate I earn from qualifying purchases. Click
here
to read our privacy policy.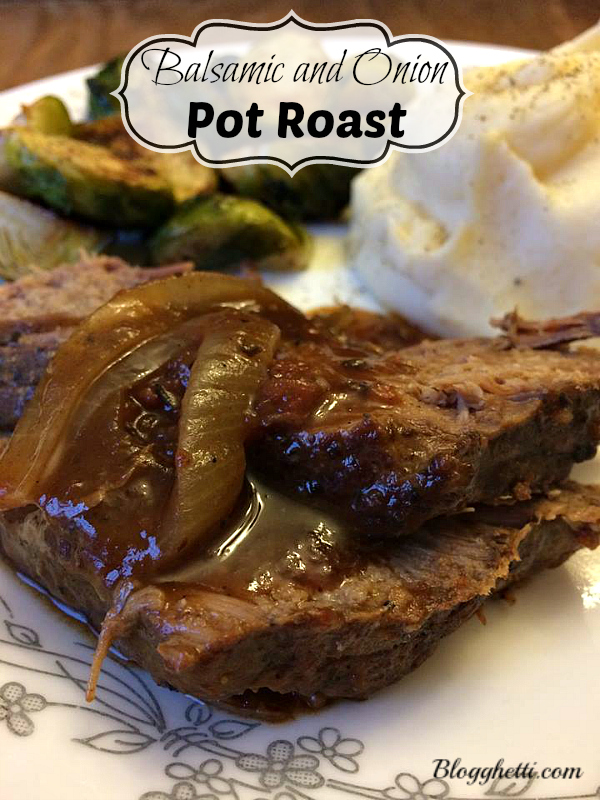 There are so many ways to make pot roast and for years I did it the same way, that is, until this recipe popped into my life via the newspaper. It's tender, moist, flavorful and beyond wonderfully good. I was hesitate to try this as I have some picky family members when it comes to anything that is labeled vinegar. So glad I made this and didn't tell them there was the "V" word in it. Of course they know now and since the vinegar taste cooks out and you're left with all the goodness from it; they are fans of this roast.
Some tips that you may find useful:
In my opinion, do not ignore or forget the browning of the meat step in the recipe as it just adds to the flavor. For many years, I would ignore this step as it was just one more pan to wash and it took time that I thought I didn't have. Oh so wrong was I! To repeat – it adds FLAVOR.


The cut of meat that I used was not the one in the original recipe, which is a 3-4 pound chuck roast. I've used most any cut of beef roast for this recipe. Typically I use what ever is on sale and looks lean. Also, most of the roasts I buy are between 2 1/2 and 3 pounds. Cooking time may be a little less with the smaller roasts and also how fast/slow your crockpot cooks. Just check it periodically to be sure.
When the roast was done, I didn't drain the liquid as she did in her recipe, instead I poured a bit over the roast when it was done.

We had leftovers and I shredded the meat while it was still warm and then refrigerated it in a separate container from the sauce. The next day, I heated the sauce up and added just a bit of beef broth to thin it out some. Add the shredded beef and let it simmer on the stove a bit till the meat is heated through. I served it over toast for Hot Roast Beef Sandwiches. Note: Depending on the cut of meat you use, you may have to scrape off the fat from the liquid before reheating.

Now on to the recipe!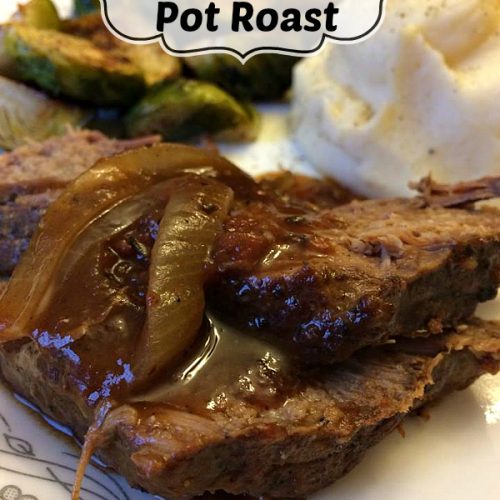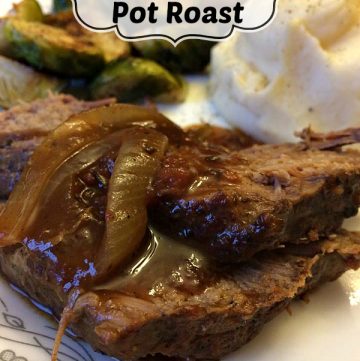 Ingredients
3-4

lb.

boneless chuck roast

I tend to lean towards a rump roast but any cut I've used has been wonderful

1-2

tbsp

steak seasoning

use less if your roast is under 3 pounds

1-2

T

olive oil

1/4

cup

water

2-3

large onions

thickly sliced

1

cup

beef stock or broth

1/2

cup

balsamic vinegar

1

can

14.5 oz fire-roasted tomatoes (puree the contents in the food processor)
Instructions
Begin by trimming as much visible fat as you can from the roast.

Rub meat well with steak seasoning.

Heat a Dutch oven or heavy pan with the olive oil on medium-high and brown roast well on all sides. This will take a few minutes but be patient and don't skip this step!

While roast browns put 1 cup beef stock in saucepan, bring to a boil and cook until reduced to 1/2 cup, then let cool slightly.

Mix in balsamic vinegar and pureed tomatoes.

Place onion slices in the bottom of the crockpot. Place browned roast on top of onion slices.

This is another step not to skip. Deglaze the pan you browned the roast in with 1/4 cup water and then add to tomato-balsamic sauce mixture.

Pour the sauce mixture over the roast and onions.

Cook on low for cook 6-8 hours, until beef is tender. If desired, you can turn the roast over a couple of times during the cooking time but it is not necessary. I do it if I am home but otherwise I don't.

About 30 minutes before the roast is finished, you can opt to thicken the juices in the crockpot by removing about 1/2 - 1 cup of the juices and thicken with a tablespoon of cornstarch. Whisk well to remove any lumps. Pour back into crockpot, give a stir and let thicken for about 30 more minutes. Serve with the sauce and onions over the roast.

If you opt to not thicken the juices, you can serve the roast as is with the juices and onions in the crockpot drizzled over the roast.

When making this roast, I'll serve it with Mashed Potatoes and roasted vegetables.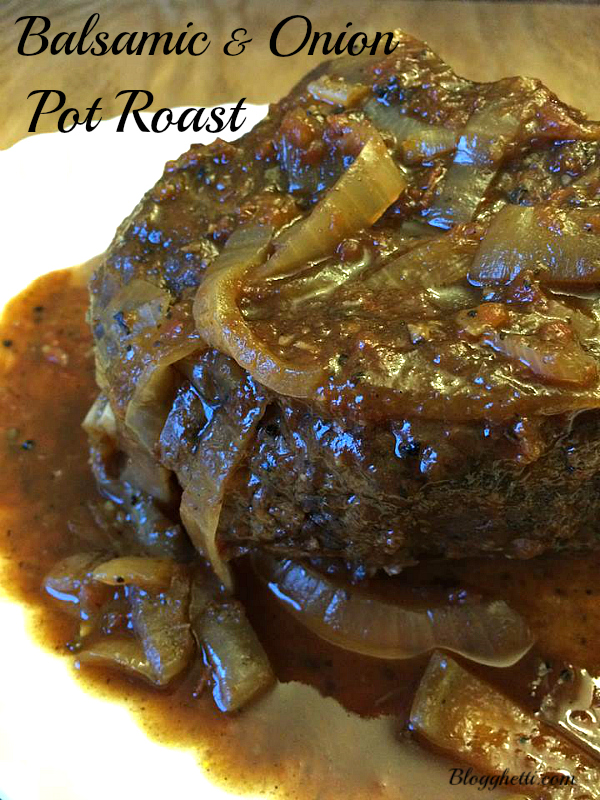 Enjoy!